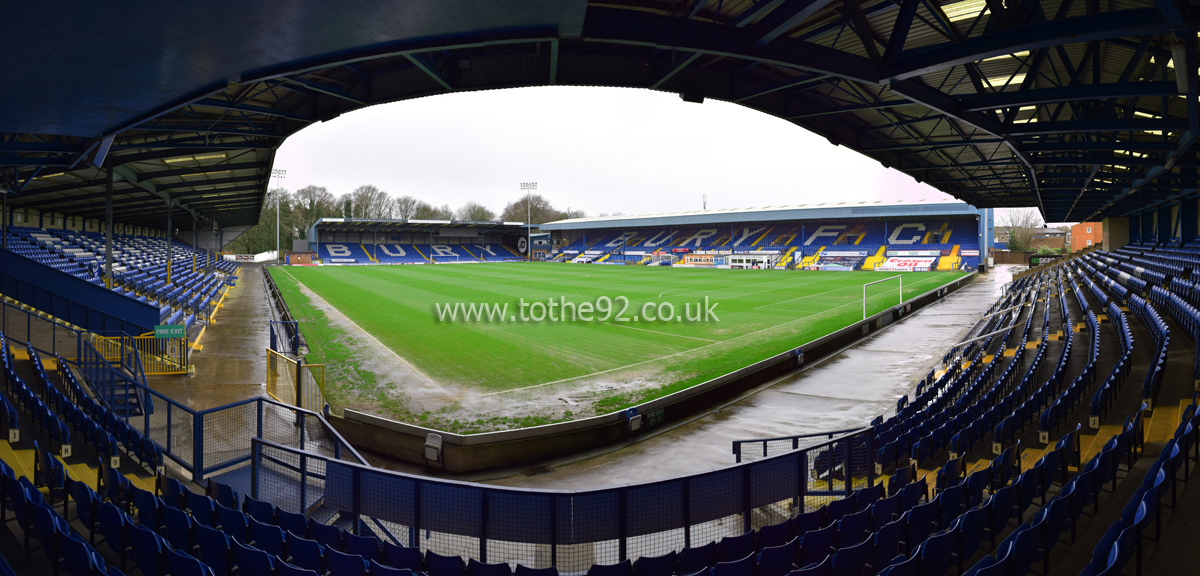 Bury FC - Gigg Lane
Gigg Lane has been Bury's home since 1885. The capacity is more than 11,000 and is more than adequate for their needs, with very few bad seats in the house. That said, if you're in the wrong place, you could end up with a pillar blocking your view of both goals! Inside the main stand, are two executive suites. Both large in size and sporting pictures, shirts and trophies, including the replica FA Cup awarded to them in 1903. The walk through this stand is quite impressive. It's old and they don't try to hide that, but there's a real football stadium feel that's unlike most others.
Visiting supporters now occupying the Manchester Road End behind one of the goals which can hold up to 2,000 supporters and is fully covered. Views are generally good although there are a row of supporting pillars, half way up the stand, impeding views if you're unlucky enough to be in behind them.
Gigg Lane seating plan: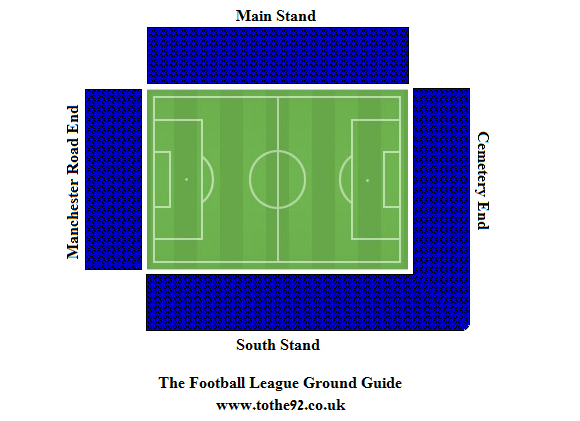 There's a good selection of drinking places along Manchester Road (linking Bury with Manchester) with one of the more popular, and indeed nicest, especially with away fans, being the Swan and Cemetery, located a short walk (around 10 minutes) from Gigg Lane and passed by most travelling supporters on the way to the ground. The range of beers is fairly unimpressive, but they do serve decent food and welcome children too. Other positive points include the fact that it has a car park for those arriving by car and a beer garden to sit and relax in when the weather's good.
There's plenty of street parking close to ground. Local supporters say "Don't let the cobble stones put you off, your car won't be on bricks when you get back". In my opinion, get there an hour before kick off and have your choice of parking. don't leave it until the last minute.

Need cheap and convenient parking near the stadium? Rent a local resident's driveway and book Gigg Lane parking with YourParkingSpace.Co.Uk
Directions
Get directions to Gigg Lane from your house by entering your post code or location below:
Bury is officially classed as one of the few non-rail towns, however, Manchester itself is easily reached by train from most parts of the country and Bury can be reached fairly quickly from central Manchester via the Metrolink which runs from Altrincham, through the city centre to Bury at regular intervals, of between 6 and 12 minutes, depending on which stop you use.

The two main tram stops in Manchester city centre, if you're arriving by rail, are Piccadilly and Victoria. Trams are more frequent (every 6 minutes) and take less time (20 minutes) from Victoria when compared to Piccadilly (every 20 minutes, taking just under half an hour). A return from any of the city centre stops will cost £3.50.
The Games To See
Rivals - Bolton, Rochdale Jack Richardson,
6th October 2018 - Bury v Mansfield Town
Travel: We went on the train from Alfreton which is around a 20 minute drive from Mansfield and offers a direct service into Manchester Picadilly which takes 90 minutes. We arrived into Manchester around 10.30am. We then used the Metrolink service around 1pm to take us up to Bury, this journey takes around 20 minutes and costs £4.60 for a return ticket. On arriving into Bury turn right out of the station and it's pretty much one straight road to Gigg Lane. Having visited Bury before there is plenty of street parking along the cobbled streets and a large car park at the stadium.

Refreshments: Having gone into Manchester beforehand and visited the Waterhouse Wetherspoons just off Piccadilly Square, we went straight into the ground. However, there are plenty of pubs within a 10 minute walk of Gigg Lane the stadium which has a mix of home and away fans. There is a club bar at the stadium which does admit away fans, on past visits it had charged an entry fee however other Mansfield fans said it was free entry and all beer priced £3.

Impressions: I like Gigg Lane, they tend to swap the away end every other year so we were back in the East Stand, I hadn't been in this once since by visit over ten years ago! Views are unobstructed and good, you can also create good noise from within this stand. Like with the opposite end you are a little way back from the pitch which allows plenty of room in the stand, the East Stand has a corner which joins the side stand and runs the length of the pitch.

Atmosphere: We started on the back foot against a good Bury side who moved the ball well and looked a threat from the off however we took the lead in strange circumstances, home keeper Joe Murphy saved and as he rose to his feet somehow managed to drop the ball, our rose, Danny quickly nipped in to give us the lead against his former club. Bury equalized in the second half with an excellent goal and applied more pressure. We hit Bury on the counter numerous times but as with previous games, we couldn't take our chances. We did take the lead and with 15 minutes left it looked like we'd be taking the points home. This season so far we have dropped eight points from winning positions and today was no different, 95th minute Bury equalized. The concourse was small and very busy, the stewards friendly and low key.

Exit: Mixed reviews from the 640 travelling support as it was another two points dropped, we walked back to the train station and headed back into Manchester. A large police presence was outside the ground which was a good thing as tempers did fray a little between both sets of supporters.

Enjoy: Another enjoyable trip to Bury and the first time visiting on the train. I will be visiting Gigg Lane again without a doubt.
TELL US ABOUT YOUR EXPERIENCES HERE: