Cardiff City FC - Cardiff City Stadium
The Cardiff City stadium was officially opened on 22 July 2009 and is the second largest ground in Wales trailing only the Millennium Stadium. When opened it was very similar to the builds at Reading and Coventry, with three sides of the bowl shaped stadium being a single tier, with a second tier added to the main stand. Since then, a second tier has been added to the East Stand opposite the main stand. There are no bad seats in the house.
Up to 2,000 visiting supporters can be accommodated in one corner of the ground between the Grange and Ninian stands. Views are excellent and facilities and leg room are also as good as you'd expect to find from a stadium as new as this. Home fans are well known for hostility unfortunately so it's best to keep your wit's about you and any colours are best kept covered, in and around the local vicinity including the town centre, until inside the ground.
Cardiff City Stadium seating plan: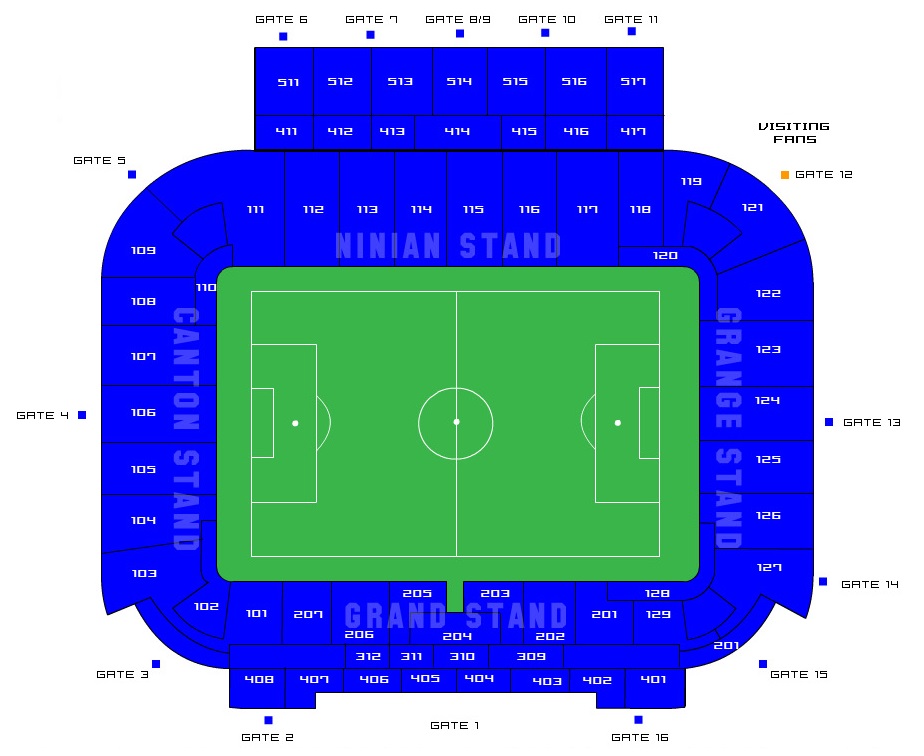 The town centre is your best bet for getting a few drinks before the game. However, if you're an away fan be sure to keep colours covered as there's very rarely any visiting supporters friendly pubs. There are a few pubs around the ground such as The Ninian Park but even without any away fan strings attached you're advised to seek a beer a little further away.

Also in the town centre are many chain restaurants and fast food establishments so you wont be short of places to go. In fact, the Wetherspoons in the centre serves a good array of food and drink to set you up well before or after the game.
Parking is freely available at the stadium providing you arrive in good time. Street parking also exists in the surrounding streets. However, train and bus services are very frequent and reliable and allow easy access to and from regardless of the direction you're coming from.

Need cheap and convenient parking near the stadium? Rent a local resident's driveway and book Cardiff City Stadium parking with YourParkingSpace.Co.Uk
Directions
Get directions to the Cardiff City Stadium from your house by entering your post code or location below:
Cardiff has a central station where trains arrive from all over the UK. The station is right in the city centre and you come out into the central bus station. You can get local connections from here to the nearest / closest stations to Cardiff City's stadium, Ninian Park Halt and Grange town. It is a brisk fifteen minute walk to the ground from the central station and a steady ten minute walk from Grange town station; however Ninian Park Halt is only one hundred yards away from the ground.

Ninian Park Halt is where the vast majority of home fans gather after the game to get trains back to the City centre and beyond, it is very crowded after a game.
The Games To See
Rivals - Swansea, Bristol City Matt Burtz,
26th February 2019 - Cardiff City v Everton
Travel: I stayed in the city centre and though there was a bus heading to the stadium I made the walk. It was a bit further than I anticipated (even after reading this guide) but I had left early and there was a steady stream of fans to follow. The walk itself is mostly along a busy road with a combination of housing and small shops/takeaways.

Refreshments: I had a pie in a small pub in the city centre near my hotel at about 5pm. and no fans were present (at least that I could see). I didn't have any encounters with Cardiff fans but they didn't strike me as the confrontational type either.

Impressions: The setting isn't the greatest as it sits in the middle of parking lots with not much else around it. Signage was good and it had the manually operated "next home match" sign that I always like. I have never been in an away end before so I can't make a comparison but everything seemed perfectly adequate. My seat was two rows from the top which afforded a good view over the entire pitch. I want to note the minor ticketing issue that I experienced. I had ordered the ticket from Everton's website a week before and asked to have it mailed to my hotel. Alas, this didn't happen, and when I called Everton the afternoon of the match to sort it out I was told it would be at the stadium in the evening. When I arrived I went to the away ticket window and they didn't have it, but the very helpful man behind the window told me that the official supporters' coach hadn't arrived yet and it was probably coming with them, and if it didn't he would call Everton himself to verify it. This wasn't necessary as when I got to the window the second time it was there. Phew! (I did have a ticket for the home end but I really wanted to sit in the away section.) Kudos to Cardiff for offering to sort it out instead of just shrugging and telling me to hope for the best.

Atmosphere: After flying for eight hours and then taking a train for two hours to get to Cardiff, Everton's 3-0 win was the dream result. Gylfi Sigurdsson scored on either side of halftime and Dominic Calvert-Lewin capped it off with a goal in the last minute of added time. Cardiff fans seemed subdued (not surprisingly considering the previous home game had resulted in a 5-1 loss to Watford) but I knew about the positive reputation Everton away fans have for making noise and we certainly made ourselves heard. As for the facilities, the beer selection was limited (I think I had a John Smith's but I can't remember for sure) though it was conveniently pre-poured. I didn't have anything to eat. I was surprised that there were two men's restrooms and there were never any lines, even at halftime. Stewards and beer servers were friendly also.

Exit: Easy as could be. I walked out and followed fans back to the city centre on a different route. I even had time to use my hotel's voucher at its bar for a post-match celebratory whisky.

Enjoy: My main concern before this trip was that Everton wouldn't score any goals over two games, so a 3-0 away win was perfect. Being in the away end was as fun as I hoped it would be. The ground itself was fine but the entire experience will always be a fond memory for me.
TELL US ABOUT YOUR EXPERIENCES HERE: