Barnsley FC - Oakwell
With a capacity of more than 23,000, Oakwell is more than double the size of the average home gate. A nice modern stadium with one stand in need of redevelopment. The West Stand has wooden flooring in the upper tier and there are some 'issues' with the roof, all of which culminating in the club announcing back in 2008 that they would be knocking it down and re-building it. If this was to happen, it would increase capacity by just under 4,500.
Visiting supporters are seated in the North Stand. You'll normally get about 2,000 tickets but if there is more demand the number can rise to around 6,000. It's not recommended that away fans drink in Barnsley city centre at all. So if you do it might be a good idea to cover up any colours.
Oakwell seating plan: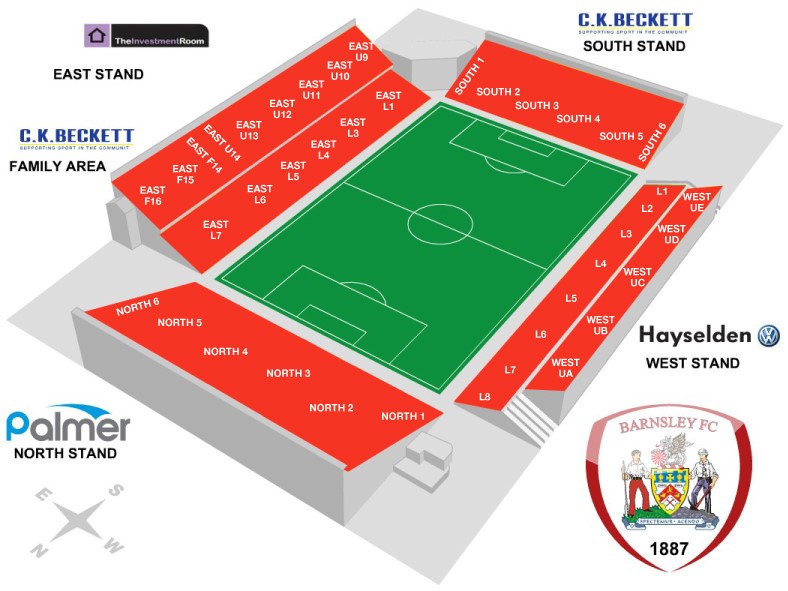 The Metro Dome, which serves food till 2pm, The Coach and Horses and The East Deane Working Mens' Club both on Doncaster Road are reportedly away fan friendly. The East Deane Club serves food from a hatch but you have to sign in to enter. Children are welcome however, if accompanied by an adult.
Parking is freely available on site at the club. There are two large car parks, one for home and one for visiting supporters which allow easy access to and from the stadium.

Need cheap and convenient parking near the stadium? Rent a local resident's driveway and book Oakwell parking with YourParkingSpace.Co.Uk
Directions
Get directions to Oakwell from your house by entering your post code or location below:
The nearest / closest train station to Barnsley's Oakwell Stadium is Barnsley. This is approximately 5 minutes walk from the ground.

Turn left away from the town centre when you leave the train station then left again onto Eldon St N. After 100 yards turn left onto Regent Street and follow it to Kendray St where you turn right again. Continue onto Pontefract Road for a couple of hundred yards and then take the left at Bala Street. The Ground is about 5 minutes walk straight ahead.
The Games To See
Rivals - Sheffield United, Sheffield Wednesday, Rotherham James Small,
30th March 2019 - Barnsley v Coventry City
Travel: After driving over the peaks from Manchester where I live, I arrived near the Dove Inn around 1.30pm and the traffic was already quite heavy. After a few U-turns, I managed to find some street parking near to the pub.

Refreshments: I met my mate who had the tickets and went for a quick pint in the Dove Inn which had inside a mixture of both sets of fans with no problems. After that we headed straight to the ground.

Impressions: We walked towards the stadium and cut through a gate onto the club car park behind the South Stand. We then walked around the ground to the right towards the away end.... which was a mistake as this side of the ground is fenced off and we had to walk back around almost the entire stadium. Eventually, we made it inside and headed up to our seats. The away end is fairly large and modern as are the other stands with the exception of the stand to our right which looked ancient in comparison and the bottom half of which was exposed to the elements.

Atmosphere: I grabbed a quick pie before kick off, (overpriced and nothing special) one of the stewards enquired with myself about a potential protest with regards to our own ground at the end of the game. I informed him that there may be a few fans have a bit of a sit-in after the game for 15 minutes or so but should be nothing to worry about. The game itself was a very entertaining one and but for a couple of defensive errors we'd have sneaked a win and nearly snatched it at the end but for a great save by their keeper. But 2-2 in the end was probably a fair result and the Sky Blue army were in fine voice throughout. As a side note if the weather's decent as it was for this game take a pair of sunglasses as the sun dropped below roof level just after kick off.

Exit: Exited the ground fairly quickly and headed back up the hill to the Dove Inn and had a glass of coke and chatted to a few Barnsley fans and tried to explain our horrendously complicated stadium situation to them. After the traffic had died down headed straight back over the peaks.

Enjoy: A decent day out but a draw probably all but ends our already slim playoff chances. I just hope that we can sort out where we'll be playing next season.
TELL US ABOUT YOUR EXPERIENCES HERE: