Walsall FC - Banks Stadium
The Banks Stadium currently has an all-seated capacity of 11,300 following an extension to the Tile Choice Stand behind one of the goals in 2003. All three other stands are identical in size and height. They also come complete with plenty of view obscuring pillars. Atmosphere is very good and well kept in, aided and assisted by the 4 corners being filled in.
Up to 2,000 visiting fans can be catered for and they are situated in the Kia stand behind one of the goals. There are a number of supporting pillars meaning that views can be restricted unless you're one of the lucky ones that gets a seat right in the middle! If you buy in advance you'll save £2 on your ticket and its worth doing so as queues can be lengthy at the ticket office on match days.
Banks Stadium seating plan: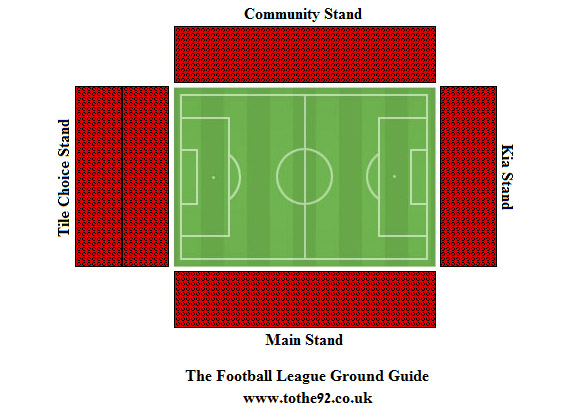 More often than not The Saddlers Club allows away fans in for a mere quid, but you might have to get there early as there are few pubs in the vicinity so as you may imagine it will get pretty busy and you might be turned away with a thirst. King George V, is around a 10 minute walk and is another option for a beer.

For food there is a McDonalds at the retail park on the way to the ground. There is of course the option of staying more central where there are more pubs and prospects of food and getting a taxi to the ground perhaps. There is a Wetherspoons called 'The Imperial' close to the train station that's worth a look.
Parking is in great abundance fortunately. There is a large car park at the stadium priced at £3 per vehicle. There is also a small amount of street parking just off Bescot Crescent, toward the Wallows lane end, within a 10-15 minute walk of the stadium.

Need cheap and convenient parking near the stadium? Rent a local resident's driveway and book Banks Stadium parking with YourParkingSpace.Co.Uk
Directions
Get directions to the Banks Stadium from your house by entering your post code or location below:
The nearest / closest train station to Walsall's Banks Stadium is Bescot rail and is a short 5 minute walk away. Simply exit the station and you'll be able to see the stadium on the other side of the M6 motorway.

Trains from Walsall Railway Station take approximately three minutes to arrive at the ground and on match days all services stop at Bescot Stadium. Remember to allow extra travel time on days when a larger crowd is expected.
The Games To See
Rivals - Wolves, West Brom, Birmingham, Aston Villa Dan Bennett,
25 May, 2019 - England Women v Demnmark Women
Travel: I drove to the stadium and parked nearby. Parking is located opposite the market and is free on a Sunday only.

Refreshments: Food & drink very well priced, kids meals £3.50 which include half a burger or hot dog with Fruit Shoot, crisps & chocolate, pints of larger for under £3, no cider on tap though. Alternatively, at the nearby market there are a few vans serving foods Asian to fresh donuts.

Impressions: It's one of the first 'new' out of town boxes and it is beginning to show its age. However there are plenty of good points. The stewards were pleasant and friendly. The downside is the pillars which obstruct the view.

Atmosphere: The stadium isn't a premiership 50,000 jobbie but there is generally a good friendly atmosphere even if the stadium isn't very often full.

Anything Else: Outside the ground there is a great social club, which serves decent food and has a good choice of beer. Definitely worth a look.

Enjoy: Overall it's a good little stadium for a club like Walsall, will defiantly look out for other England games here or friendlies against Aston Villa in the future.
TELL US ABOUT YOUR EXPERIENCES HERE: