Huddersfield Town AFC - John Smith's Stadium
The John Smith's Stadium seats 24,500 people along with hospitality boxes and conference rooms. The Direct Golf UK 'main' Stand incorporates a row of 26 executive boxes running between the two tiers. The Britannia Rescue Stand, across from the main stand, is a large, single-tiered stand which seats over 7,000. The Pink Link South Stand is usually allocated to away fans and seats 4,054. This is built into natural banking and is the most basic of the stands. The Fantastic Media North stand is the tallest stand with two tiers, 16 hospitality boxes and a viewing room for players' guests. The lower tier consists of temporary seating that can be removed for events such as concerts.
Up to 4,000 visiting Supporters can be accommodated here and are located in the South Stand behind one of the goals. The facilities, refreshment bars, leg room and view of the playing action are all very satisfactory as you'd expect from a ground built in the 90's.
John Smith's Stadium seating plan: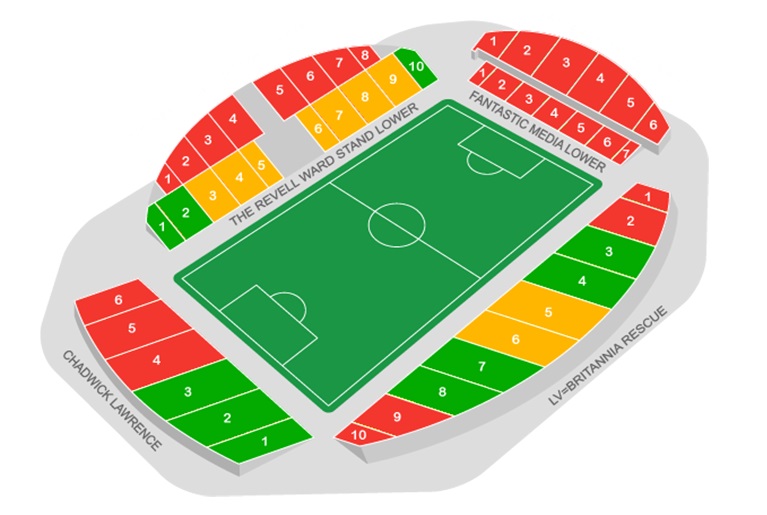 The best places to eat and drink before and after a game are in the town centre. Unfortunately it's not a short walk from that ground (around 20 mins) so depending on how many you have and how fit you are it may be best to get a bus along. Alternatively, Ricky's bar on Leeds road offers a good range of beers and some cold food.
Parking is available at the stadium at a cost of £5 per car and in local 'football' car parks ranging between £3 and £5. Street parking is available but you'll need to be prepared for the 15 minute walk in.

Need cheap and convenient parking near the stadium? Rent a local resident's driveway and book John Smith's Stadium parking with YourParkingSpace.Co.Uk
Directions
Get directions to the John Smith's Stadium from your house by entering your post code or location below:
To walk to the ground: Take a left out of the station past the George Hotel, and head straight over the cross roads into Northumberland Street. At the end of the street, go straight over major cross roads (s/p Leeds A62). At roundabout after 0.2 miles bear right into Gas Works Street, before passing the gas works and crossing the canal. Go straight on at the crossroads by car showroom to the John Smith's Stadium. The journey should take you around 20 minutes.
The Games To See
Rivals - Leeds, Bradford John Hague,
6th April 2019 - Huddersfield Town v Leicester City
Travel: Two family Metro Day Rovers ensured we only paid £6.50 for all our travel during the day. We had stayed in Leeds the night before and were staying Saturday night too to make a good weekend of gigs and football. A 17 minute journey from Leeds and we were soon having a few beers first in the Kings Head and then Head Of Steam, both on Huddersfield Station. There were plenty of Leicester City fans and the atmosphere was very good-natured. We tried to Northern Quarter Bar but found it closed and instead I had to suffer a Wetherspoons. At least I didn't pay but I had to think on my feet when asked where I was from (even though I was with three women) and said proudly 'Barnsley!' From here it's a pleasant 20 minute walk to the ground.

Refreshments: The King's Head, Head Of Steam and sadly Wetherspoons. Some great beers though and a good laugh. Home fans were sanguine but friendly.

Impressions: I remember being impressed when I first for a Great Britain Rugby League International years ago but now the stadium seems a bit unloved. I guess the fact it was daylight and no floodlights blazing disappointed me. The away end is pretty badly designed and the area for food and toilets far too small. A trip to the loo at halftime was a major logistical operation.

Atmosphere: The stewards were good and friendly, the pies were tasty but I have to be honest... overcooked! The game itself was a very end of the season. Huddersfield had been put out of their misery last weekend so I expected them to cut loose a bit but if anything they were even more rubbish than for most of the season. 4-1 flattered a Leicester City side who strolled through the game. In terms of atmosphere, the few Terriers fans who could be bothered soon gave up singing. I guess they've had a long season and the team just hasn't given them anything to sing about. The Leicester fans kept up the noise throughout the game and the 'ole's' at the end were sticking the knife in a bit.

Anything Else: A twenty minute walk back to the station to meet my girlfriend was pretty simple. A couple more beers and we hoped on a train back to Leeds.

Enjoy: Another ground ticked and five more goals for the year but I've seen more exciting games even at Step 11 of the pyramid. Not one to live long in the memory.
TELL US ABOUT YOUR EXPERIENCES HERE: