Hull City AFC - KCom Stadium
The bowl-shaped KCom stadium contains a continuous single tier of seats with a second tier on the west side and its current capacity is 25,504. Without a single bad seat in the house it's a great place to watch football and was voted football league stadium of the year in 2006.
Visiting supporters are situated in the North stand end behind one of the goals. The views are unrestricted and like the leg room and facilities, are exactly what you'd expect from a new stadium. A maximum allocation of 2,500 tickets can be made available but this number is generally kept to about 1,800.
KCom Stadium seating plan: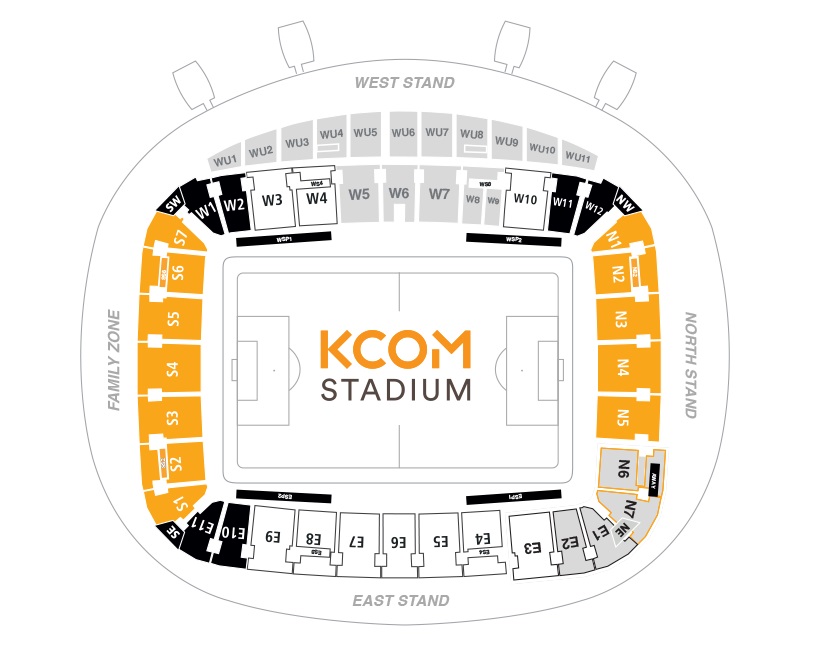 There's a few pubs surrounding the ground but the majority are home fans only. Simon Laughlin tells me: Away fans are welcome to drink in the Walton Street Club which is situated opposite the Walton Street car park. There is a £1 door charge for non members and serves excellent food and drink. There's a TV, pool table, darts board and colours are more than welcome.

There's plenty of pubs on Princes Avenue which is about a 10/15 minute walk from the ground. These have a more friendly 'cafe bar' vibe, but colours should still be kept to a minimum.

There's takeaways dotted around near to the ground and Hull is renowned for it's fish and chips. Try a 'patty', the local speciality, if you get chance!
There is a large car park at the stadium available at a cost of £5 per car, which you can enter from Walton Road. Like many other stadium car parks, it can be a slow process to get away again after so advice would be leave early enough to beat the crowds. Street parking is findable but resident parking schemes are in progress so be aware of where you're leaving your car.

Need cheap and convenient parking near the stadium? Rent a local resident's driveway and book KCom Stadium parking with YourParkingSpace.Co.Uk
Directions
Get directions to the KCom Stadium from your house by entering your post code or location below:
The nearest / closest train station to Hull City's KCom Stadium is Hull Paragon and it's a 15 minute walk away from the ground. The walk is a simple one: leave through the south side of the station and turn right onto Anlaby Road and continue walking along here until you reach the stadium.

Hull Paragon Station is well connected from most mainline stations in the North and South.
The Games To See
Rivals - Doncaster, Sheffield United, Sheffield Wednesday Ian Robinson,
20th October 2018 - Hull City v Preston North End
Travel: An easy journey on the club's coaches. It took just over two hours with no traffic jams. You can't miss the car park it's the size of a small county!

Refreshments: We went in the Pitch side bar next to the away end. Its a bit basic but had Sky television on so watched part of the lunch time game then went into the ground for food. I have got to say the Preston catering was good and another ground which is streets ahead of us. A foot-long sausage roll and amazing chips for 6 quid brilliant if a little filling. I didn't see any Hull fans until we got to our seats and then just the usual banter.

Impressions: From the run up to the ground it does look a bit imposing and on the outside has a feel of an old Eastern Block Country but on the inside is quite impressive and has good views.

Atmosphere: It was an end to end game in the first half and Hull should have bagged a couple before they got a late penalty in the second half. We snatched a late equaliser in the fourth minute of time added on, which I feel was a bit of a robbery but that's football. The Stewards were a bit tenacious but otherwise friendly enough. As for the catering as in comments above it's the best I have ever had in a football ground.

Exit: Straight out of the ground and onto the coach , took a bit to get going but once we got out of the traffic a straight run home.

Enjoy: A great day out and I would definitely go again and perhaps we might not need the striped top and mask next time!
TELL US ABOUT YOUR EXPERIENCES HERE: