Doncaster Rovers FC - Keepmoat Stadium
The all-seater Keepmoat stadium holds 15,231 spectators, 5,000 more than their previous stadium, Belle Vue, with improved legroom and disabled access. Amongst the facilities in the new stadium is a new fans' bar, created to ensure fans have a place where they can enjoy pre-match drinks. There isn't a bad view in the house and the stadium is very rarely near to being full so you can more often than not, pick your seat.
Visiting supporters are situated in the North stand behind one of the goals. The views are unrestricted and very good from all seats, whilst the facilities and leg room are also more than acceptable. The bowl design helps to keep the sound in allowing home and away fans to generate a lot of noise. There is a bar at the ground which visiting fans are allowed into but make sure you arrive early enough to get in before it gets too busy to move! It's friendly enough inside and children are also allowed in making it an attractive place to head for.
Keepmoat Stadium seating plan: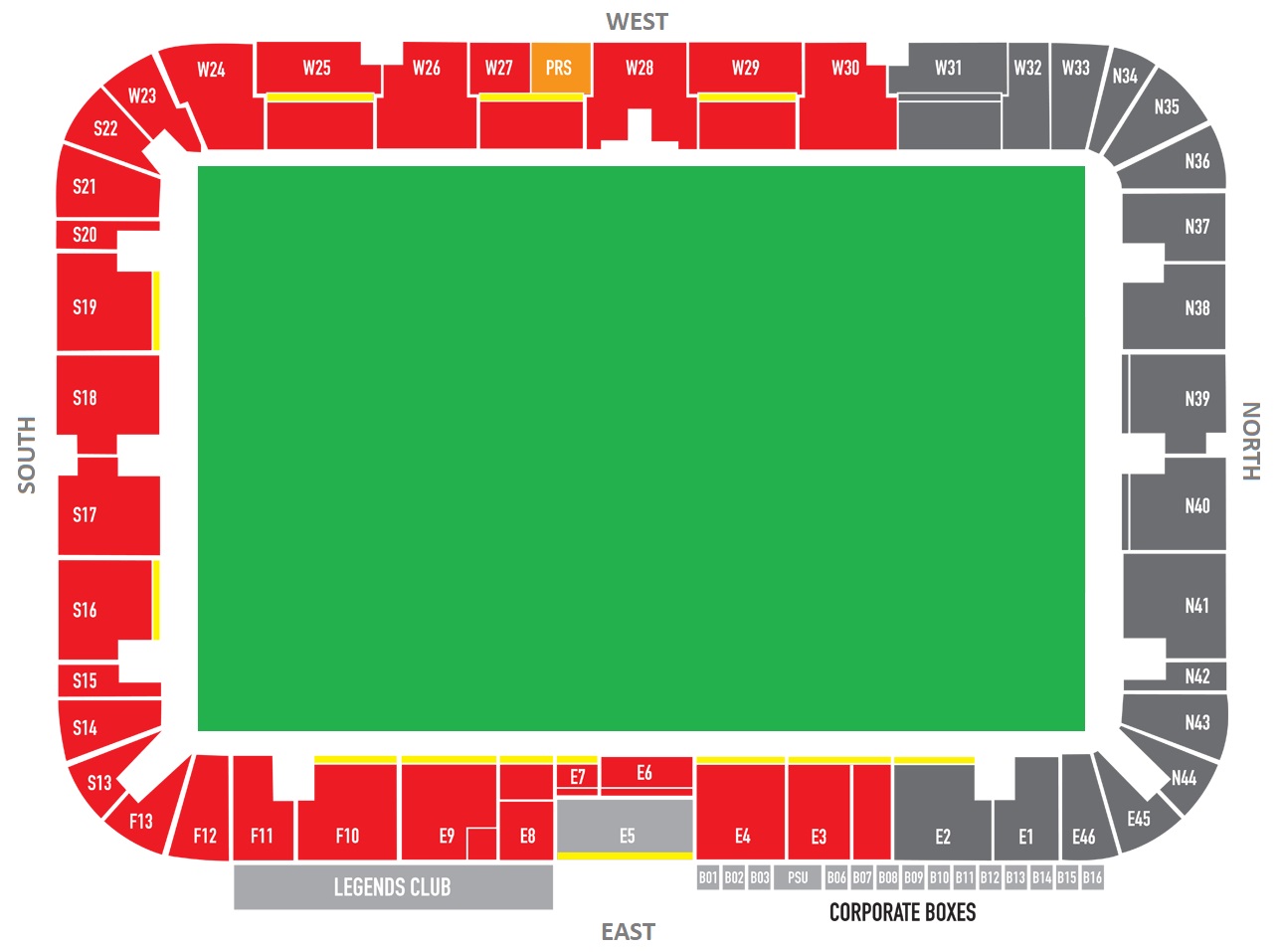 If arriving in Doncaster by train, then there are numerous pubs in Doncaster Town Centre that allow away supporters in. The Tut-n-Shive is a popular pub and only a few minutes walk from the railway station. Failing that then other good pubs in the town centre are Berlin's, Wetherspoons, Moods, Livingstone's, The Nags Head, The Salutation and the Rockingham Arms. Not all of these pubs will allow in away supporters, and some won't accept club colours, but if you keep colours covered you should be ok. All of these have a decent selection of hot and cold drinks and most serve a small amount of food.
There are 1000 car parking spaces available at the stadium at a cost of £5 each. However, if you're not first out of the gate it can be a painful process to escape from here onto the main road afterwards. Alternatively, a number of companies on the nearby industrial estate, offer match day parking at around £4 per vehicle. But if you're able to arrive a couple of hours before kick off then there is also some free street parking to be had in the surrounding area.

Need cheap and convenient parking near the stadium? Rent a local resident's driveway and book Keepmoat Stadium parking with YourParkingSpace.Co.Uk
Directions
Get directions to the Keepmoat Stadium from your house by entering your post code or location below:
The nearest / closest train station to Doncaster Rovers' Keepmoat Stadium is Doncaster. If you arrive at Doncaster railway station be aware that it's approximately 2 miles from the stadium so unless you fancy a walk, you may be best catching a bus from outside the station or jumping into one of the taxi's at the rank. There is a dedicated bus service from the Doncaster Interchange bus station which is another option and runs from approx 2 hours before kick off. It's the other side of the shopping centre. It runs every 10 minutes direct to the Stadium.
The Games To See
Rivals - Barnsley, Rotherham, Hull David Crossfield,
15th March 2019 - Doncaster Rovers v Barnsley
Travel: Had it been on a Saturday I'd have gone by public transport and enjoyed some ales in the town centre. Instead, I had to rely on a lift on this occasion. We went via the M1 and M18 which is actually 29 miles, twice as far as going directly, but much quicker. The Keepmoat is easy to find from the M18. We managed to park for free outside the now closed Toys R Us store at the edge of the Lakeside shopping centre.

Refreshments: There really is a dearth of places to drink near the stadium. I have been in the Beefeater before, but on this occasion, it was so busy that bouncers were operating a one in one out policy and there was a queue outside. We went in the ground earlier than usual and had a poor pint of Rovers bitter for £3.50.

Impressions: I knew what to expect, having been several times. It's modern and lacks character. The concourses are better than at many grounds. The toilet facilities are good. Access to refreshments was good too. Having sold 3,700 allocated seats, fans were told to sit where they want. It didn't seem to cause any problems and allowed the noisy element to congregate in one corner. That area has been a flashpoint on previous visits, but that area was clear of home fans this time. I sat in row M, just to the right of the goals. My seat was fine and I had a decent view of the game.

Atmosphere: The stewards were fine. There was some patting down of some fans outside the turnstiles. Plenty of stewards in evidence on the concourse before kick off. Barnsley were outplayed in the first half and were lucky to go in at halftime 0-0. Dougall went off injured after 18 minutes leading to reorganisation and a young left back playing midfield. With two young players making full debuts, two suspensions and several injuries, Barnsley were very disjointed. A great double save from Barnsley keeper Davies kept Donny at bay. Barnsley were much better in the second half and pinned Rovers back for long periods, but couldn't score. A spirited effort from a makeshift team, but Rovers were denied again by Davies in the last minutes. Lots of noisy support in the away end. The draw was a fair result. Barnsley missed the chance to open a bigger gap on Sunderland and Donny to consolidate sixth place.

Exit: On leaving the ground we were forced by barriers and Police to go in the opposite direction to our car. Apart from that, no problems. The traffic flowed fairly quickly and we were on the M18 in 10 minutes.

Enjoy: In retrospect, with injuries and suspensions, it was a good point for Barnsley. Reds central defender Ethan Pinnock was named Sky Sports 'man of the match'. It was not a great spectacle for Sky television viewers. Constant chants by Barnsley fans let Sky know how they are regarded, with moving such games. Our second consecutive away game disrupted for their benefit.
TELL US ABOUT YOUR EXPERIENCES HERE: