Charlton Athletic FC - The Valley
The Valley was re-opened in December 1992 and since Charlton's return, the ground has been majorly redeveloped. Only the South Stand remains almost untouched from opening day with the north, east and west sides of the ground being completely rebuilt. All the changes have taken the grounds capacity up to over 27,000. The South Stand is the only one of the 4 with any supporting pillars. It's a hugely impressive stadium for a club at this level and it's a shame to see it only half full for league games at the moment.
Up to 3,000 visiting supporters can be catered for and they are situated in the Jimmy Seed Stand at the south end of the ground. This build is above pitch level, making for very good views of the playing surface. If the visiting team are unlikely to sell their full allocation, this end may be shared with home fans.
The Valley seating plan: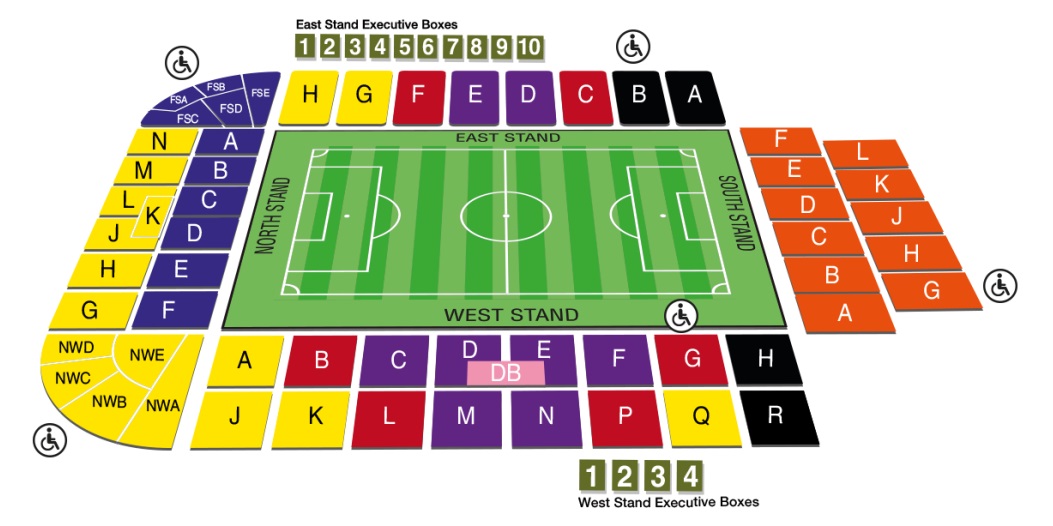 Away fans being away fans will always flock straight out of the station and cross the road to The Antigallican. This isn't a great pub, but is safe and easy, which does a lot of football fans visiting a new ground. It is large inside, although the bar is small, so it can take a while to get served. As it is so large, you can get quite a sing song going in the main bar.

From the train station, heading towards the ground at the first junction you come to, you will find one Chinese restaurant that opens on match days, two cafes with eat-in areas, two kebab shops, two grocers, two newsagents and two burger stands! Locals have a delicate pallet and favour 'chips n meat' from Charlton Kebab, which is, as you may guess, chips piled high with doner meat.
Parking opportunities around the Valley are few and far between. Most advice is to use tube services to access the stadium but if you're willing to arrive early enough you'll definitely be able to find a space. Be aware of the residents permit holders areas though as these are very strictly adhered to.

Need cheap and convenient parking near the stadium? Rent a local resident's driveway and book The Valley parking with YourParkingSpace.Co.Uk

Driving to The Valley but need a car? Try Enterprise Rent-A-Car London
Directions
Get directions to The Valley from your house by entering your post code or location below:
The nearest / closest train station to Charlton Athletic's Valley Stadium is Charlton. The station is a stone's throw from the ground and takes two minutes to walk.

Charlton is serviced by trains from Cannon Street and Charing Cross, via London Bridge or from the east by Dartford and Gillingham. Trains run frequently on match days and there are up to 8 an hour. For details contact National Rail Enquiries on 08457 484950, or visit www.nationalrailenquiries.co.uk

The nearest tube station is North Greenwich on the Jubilee Line. The station is at the Millennium Dome and is a 15 minute bus ride from the ground. (486 or 472)
The Games To See
Rivals - Crystal Palace, Millwall, West Ham Yaz Shah,
24th November 2018 - Charlton Athletic v Bristol Rovers
Travel: We live in North London so very easy by Tube. Metropolitan line from North Harrow to Finchley Road, Jubilee Line to North Greenwich Stationer then Bus to ground. One hour in total.

Refreshments: Popped into chippie Sea Bear by away end as remembered it from last time and had chips. Did not really meet any home fans apart from a few on the bus or at chippie or waiting to get back at the bus stop.

Impressions: It was generally okay but not much leg room if tall. Still better than most grounds in League One. The away end is quite open so quite chilly if cold and a wind blowing. Wrap up warm and recommend scarf and gloves in winter.

Atmosphere: We played well, except for a first half free kick that never was in the last minute cost us a soft goal. Rovers tried hard to get back on level terms and then conceded a last kick goal when our goalie came up to lose 3-1. The stewards were okay but had the cheek to ask away support to sit down when we could see a few of the Charlton fans standing by where their drums were located. Rovers fans generally stand if given choice so this prompted the rest of the away fans to stand up and all started singing We Are Bristol Rovers, We Do What We Want... So we stood our ground and no more requests. The tea I had at half time was quite expensive at £2 plus.

Exit: Easy but as per previous visit, too many police, especially on horses. A long wait for a bus then two came at the same time! Then an easy tube ride home; Alan and I met another Rovers supporter Steve from Chesham so passed time talking to him.

Enjoy: Okay. I did not expect much from the game but the poor free kick decision cost us the break. Charlton looked slick and passed and moved the ball very well and comfortably; no long booting unlike us. The only negative for them was that they tended to waste time in the second half with the score 2-1.
TELL US ABOUT YOUR EXPERIENCES HERE: