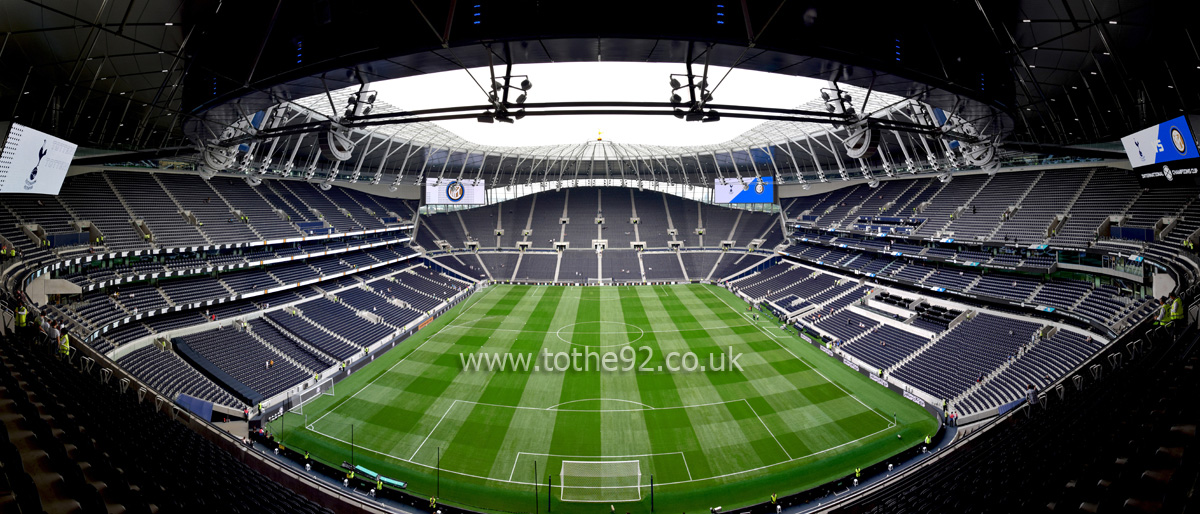 Tottenham Hotspur FC - Tottenham Hotspur Stadium
Well, it may have been late opening and come in over budget, but the new Tottenham Hotspur Stadium has been worth waiting for. To say that it is fantastic, would be an understatement. With a capacity of 62,062 it is the second largest stadium in the Premier League. Not only is its size impressive, but the design and quality of build too. Plus the stadium has been built very much with the fan experience in mind and it boasts some great facilities, which are already the envy of other clubs.

Walking along the High Road, then from the outside, the stadium has very much a modern look with a large glassed frontage and metallic coloured cladding. There are large LED screens too on the external walls, adding to the overall feel and look. Also noticeable on the sides of the stadium are large open flaps, which I assume are to allow more to get through to the pitch.

Inside the stadium, you can't help notice its large imposing curved roof that sweeps around the ground. Although essentially a bowl design, the new Spurs stadium offers something a little different. The main West Stand on one side and the East Stand opposite, are very similar both being four-tiered. Both have a large top and lower tier, with two smaller tiers sandwiched in-between. These two smaller tiers are mostly for corporate hospitality areas. Above the tiered areas below the roof, there is a glassed fronted area running along the length of the stands, that I assume is also used for corporate guests. The West Stand is the 'Main Stand' having the team dugouts situated out front. At the North End (or Paxton End as it is also known), the stand is three-tiered, whilst opposite the club have built the single largest stand in the country. Although this stand has just two tiers, it has a staggering 17.500 seats, in 82 rows and is an impressive sight. Each of the top tiers of the stands is semi-circular in look. Above the South Stand mounted on the roof is a large gold coloured cockerel. Very impressive looking too are the four large video screens, one situated under the roof in each corner.
Away fans are housed in the lower tier of the North East corner of the stadium, where up to 3,000 fans can be accommodated for Premier League matches. A much larger visiting allocation of up to 9,000 can be made available for domestic cup ties. For these matches visiting fans will be housed in the same area of the stadium but over the three tiers. The leg room in this area and views of the playing action are generally good, with fans being located close to pitchside. However towards the end of the season, away fans may find that the sunlight shines directly on that part of the ground, so some shades or a cap may be required.

Inside the stadium, you are presented with a stylish looking concourse, that also has a number of television screens dotted around. The facilities are generally very good and even the toilets are quite 'posh' by football ground standards. The 'Tap Inn' refreshment area offers a range of pies including the Tottenham Signature Pie (£3.50), Chicken Tikka Pie (£4.50) and other Pies including a vegetarian option (£3.50) and Sausage Rolls (£3.50). No cash is accepted inside the stadium, only cards, so make sure you take a bank card with you.

With the stadium roof quite high above the away fans section, it may be difficult for visiting supporters to really make themselves heard within the stadium, but we shall wait and see. Visiting supporters for Premier League matches will be pleasantly surprised to find that standing rails are in place along each row of seats. These are in place if and when legislation is changed to allow Premier League Clubs to have areas of 'safe standing.' However in the meantime the club a little ironically has a strict no 'persistent standing' rule, so don't be surprised if you have stewards telling you to sit down if you are standing. Also although the stadium has cost a small fortune to build, they didn't include padded seats as standard, so MK Dons still have one over on this stadium... Still, overall it is an excellent venue and one that should be quite a spectacle on matchdays and have a good atmosphere. You can also enjoy a pre-match light show for evening kicks offs.

One other positive is that the stadium has been designed with the modern fan in mind and has free high capacity Wi-Fi available, including all major networks. Simply select on your mobile phone Wi-Fi settings the network called 'Stadium_Guest.' After you have accepted the Club's terms and conditions, you will then be connected.
Tottenham Hotspur Stadium seating plan: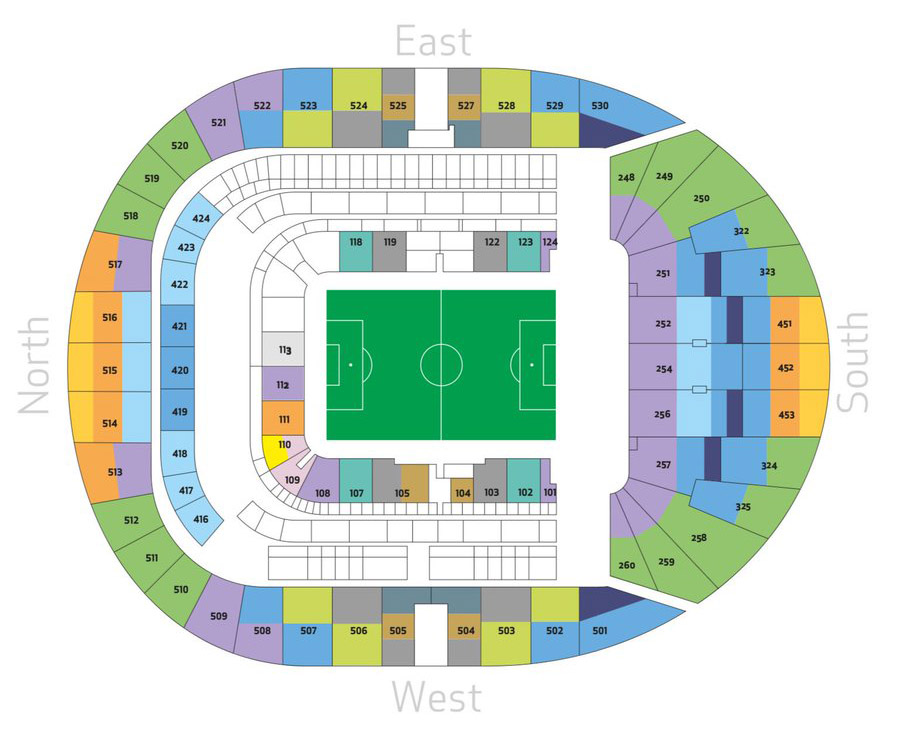 Tottenham High Road has numerous cash machines, fast food outlets, bars and pubs, newsagents and bookmakers, and programs are on sale at numerous points around the ground. As far as pubs go, home fans might enjoy the Antwerp Arms on Bruce Castle Park, or the Corner Pin adjacent to the ground, both of which require tickets to be shown at the door. Currently one of best watering holes for home fans is the Bill Nicholson - lots of Spurs memorabilia, BBQ in the garden (in all weather) and just a 2 minutes walk from the ground.

Away fans can try the Elmhurst on Lordship Lane, which is a large mock tudor style looking pub with 4 or 5 screens showing Sky Sports. Also there is the Harringey Irish Centre on Pretoria Road which is opposite White Hart Lane station. It has a large hall set aside for away fans, shows Sky Sports and the food and drinks are reasonably priced. You can also park at the Irish Centre, but I believe it costs £20 per car.
Parking close to the ground is virtually impossible unless you're willing to pay in excess of £15 for a space. However, street parking is available up towards North Middlesex Hospital. The roads around here are in the borough of Enfield and not part of the controlled zone that permit holders only are allowed to park in. It does mean you have a 15 minute walk to the stadium but in truth it's worth saving the parking money. Saving the cost of paying to park for two league games would almost enable you to buy the new home shirt!

Need cheap and convenient parking near the stadium? Rent a local resident's driveway and book Tottenham Hotspur Stadium parking with YourParkingSpace.Co.Uk
Driving to the Tottenham Hotspur Stadium but need a car? Try
Enterprise Rent-A-Car London
Directions
Get directions to the Tottenham Hotspur Stadium from your house by entering your post code or location below:
The nearest / closest train station to the Tottenham Hotspur Stadium is White Hart Lane. This overground railway station is well served, with trains running regularly from Liverpool Street. The nearest tube is Seven Sisters on the Victoria line, but that leaves a 30 minute walk.

Served by the Liverpool Street - Hertford East line, White Hart Lane station is a five minute walk from the ground - on leaving the station descend the steps and turn right along White Hart Lane, crossing Love Lane. At the T-junction, turn right into Tottenham High Road.
The Games To See
Rivals - Arsenal, Chelsea, West Ham Brian From,
1 June, 2019 - Tottenham Hotspur v Liverpool
Travel: We came into White Hart Lane Station and its only a short walk well stewarded by the ground staff. All of the staff we encountered were polite and helpful.

Refreshments: Great food. Great selection of beers. They even have a craft beer brewery inside the stadium.

Impressions: I visited with my brother to watch the Champions League final on the big screens. The new stadium looks terrific from the outside and the atmosphere, with 60,000 fans was great! It's very much a 'bowl stadium' and with the seats close to the pitch and steeply raked, it's a great experience.

Atmosphere: What can I say. An amazing stadium, great fans, an amazing atmosphere, and this was only for a live screening, imagine what it would be like on a match day. Will definitely be back to watch spurs again.

Anything Else: Views of the ground are excellent, comfortable seats in fact everything you would expect and more. So even if you are not a football fan you can enjoy your time here. Order a bottle of wine and relax.

Enjoy: Of course. It;s a wonderful stadium and i'll definitely be back.
TELL US ABOUT YOUR EXPERIENCES HERE: