Millwall FC - The New Den
The New Den has an all seated capacity of just over 20,000 although when it was originally built, the plan was to have a seating capacity of between 25,000 to 30,000. Unfortunately, Millwall could not meet the additional cost but given their average attendances of around the 10,000 mark over the past few years, it would appear 20k is sufficient. All four stand are very similar with two tiers and identical height. There are no bad views from any seat within the stadium but advice I'm given is to sit in the upper tiers.
Approximately 4,000 visiting supporters can be catered for and will be situated in the North Stand behind one of the goals. Usually, the upper tier only is given over but each seat has an excellent unrestricted view of the playing area. Facilities are quite good and the food is reasonably priced with chicken and chips coming in at just £3. The Police presence has helped to make a trip to Millwall a much safer and less threatening experience than it was in the early to mid 90's and before.
The New Den seating plan: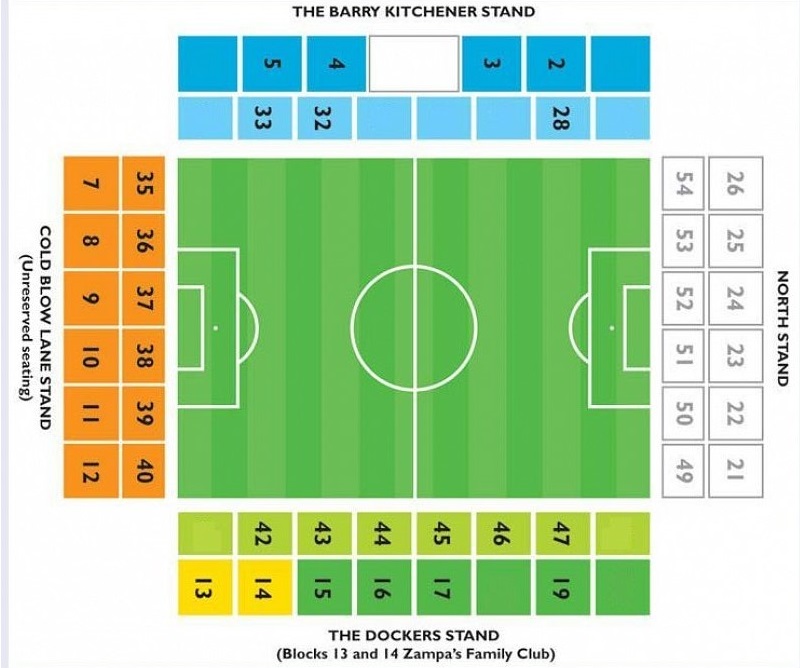 For obvious reasons, away fans are advised to keep drinking around the ground to a minimum. A few drinks in one of the pubs around London bridge such as The Shipwright Arms on Tooley Street before heading down to the ground seems a good bet. Also around the London Bridge area are many fast food outlets where you'll be able to grab a decent bite to eat.
Parking is difficult to come by here. Street parking is available on the estate just passed the entrance to the stadium but you'll need to arrive early to avoid a sizeable walk back. There are very few private car parks in the vicinity which offers a good insight as to why most fans take the train to the stadium.

Need cheap and convenient parking near the stadium? Rent a local resident's driveway and book The New Den parking with YourParkingSpace.Co.Uk
Directions
Get directions to the The New Den from your house by entering your post code or location below:
The nearest / closest train station to Millwall's New Den Stadium is South Bermondsey. Make your way to London Bridge and then change after one stop at South Bermondsey station, between platforms 8-16. Trains normally depart for South Bermondsey every 20 minutes.

Please note that not every train which departs from these platforms go straight to South Bermondsey, listen to announcements and check the boards.
The Games To See
Rivals - West Ham, Charlton, Crystal Palace Joe Knowles,
1 September, 2015 - Millwall vs Peterborough United
Travel: We took the train from Peterborough to Kings Cross St Pancras and then changed to London Bridge and went from there to South Bermondsey. This is when I forgot how expensive trains are.

Refreshments: We ate at a very grubby Mcdonalds chain at London Bridge where it was messy and the staff were incredibly rude. My advice will be to eat before you go.

Impressions: It's a nice looking ground from the inside, especially at looking at photos of The old Den and comparing them. Atmosphere was dull and boring but there must have been around 2000 supporters in the entire ground. Millwall scoring a last gasp winner didn't bide well with us though.

Facilities: From the away section, the view was really good, unobstructed views but sitting down was difficult especially as I am a tall lad but I stood up the entire game so I didn't really have to deal with that problem

Exit: The walk from the away end is a bit partizan but the tunnel sort of thing you have to walk through is probably for the best.

Enjoy: I did not enjoy the day because we lost and the atmosphere was flat but I would like to see it on a league day and will be going back down when we play there in the league
TELL US ABOUT YOUR EXPERIENCES HERE: