Everton FC - Goodison Park
Goodison Park is the world's first purpose built football stadium and has recorded several firsts in stadium development in England. As well as hosting Everton games the stadium has been the venue for an FA Cup Final and numerous international fixtures, including several in the 1966 FIFA World Cup. Although re-development has taken place, the stadium is very old and as such comes complete with pillars that can and will block your view if in the wrong section.
Visiting supporters are seated in the Bullens Road Stand, at the end closest to Stanley Park. Generally the section of the Upper and Lower Tiers reserved for away fans will seat 3,000 although for games when the away allocation is increased to 10% of the total capacity, the section extends down towards the half way line. Both tiers are close to the Park End stand so you can expect a decent bit of banter with the home supporters. The quality of the seating, leg room and views of the game from the Bullens Road stand is unfortunately not the best. The Lower Tier has a low ceiling, especially in the back rows, which makes it very dark and claustrophobic and you should be prepared to stand up at frequent intervals as well as having to contend with supporting pillars blocking your view.
Goodison Park seating plan: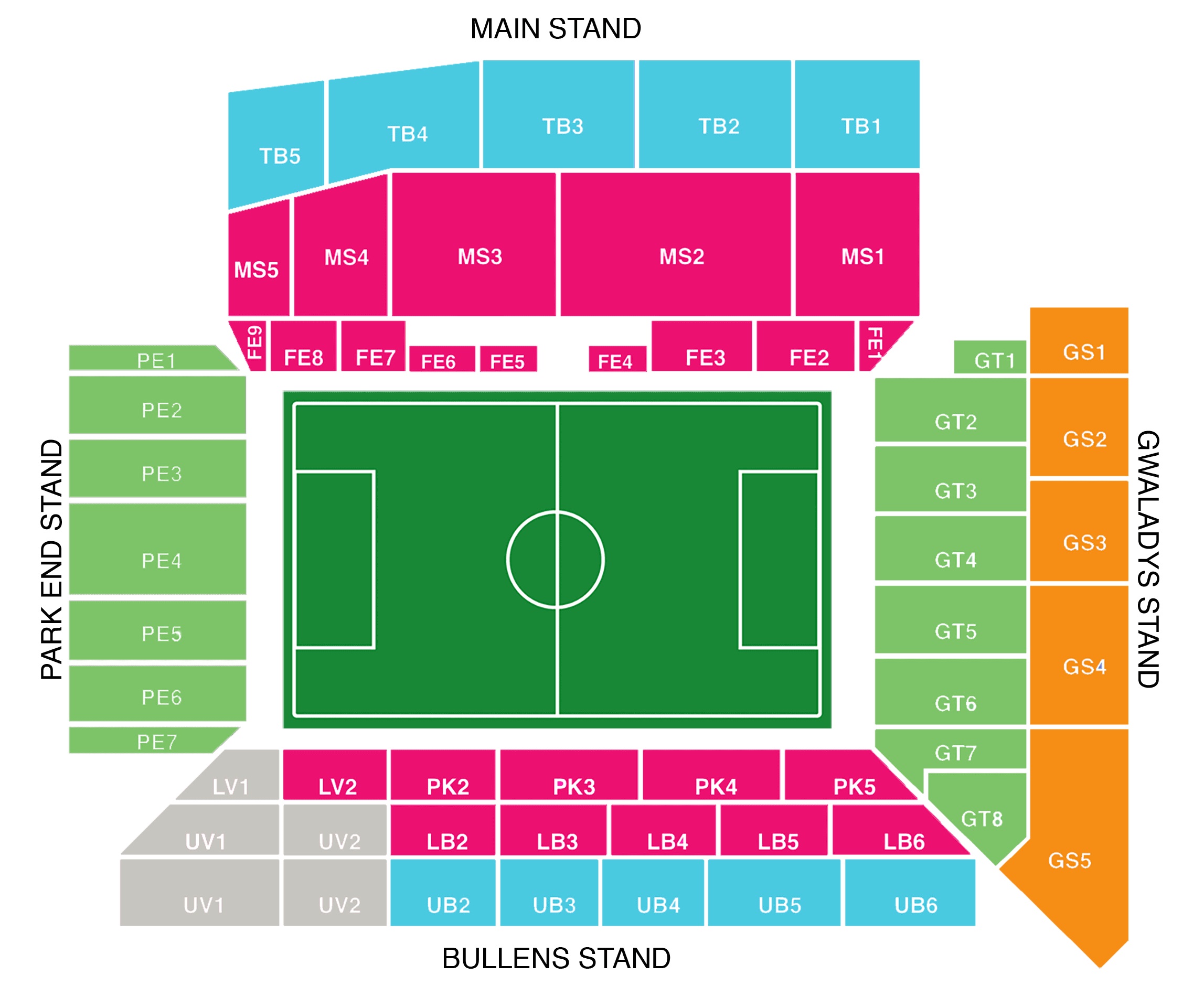 The closest pub to the ground is the Winslow opposite the Main Stand which gets uncomfortably busy in the run up to kick off. It is very popular with Everton supporters and it has a good atmosphere, especially after Everton win! Further up Goodison Road, is The Spellow pub which is ok for a beer. Within a couple of minutes walk from the ground there are at least twelve pubs which are all really friendly and generally welcome home and away supporters.

Up by the ground there's no shortage of places to eat and drink. County Road has plenty of places to grab a bite to eat including Sayers, Subway, KFC, McDonalds and numerous chip shops and cafés.
Street parking is available, if you're willing to arrive a couple of hours before kick off, in the walton village area. Alternatively, you can pay and display in Stanley park at a cost of £8 or for approximately £3 you're able to stop in the Walton Sports Centre which is just off the A580.

Need cheap and convenient parking near the stadium? Rent a local resident's driveway and book Goodison Park parking with YourParkingSpace.Co.Uk
Driving to Everton - Goodison Park but need a car? Try Enterprise Rent-A-Car Liverpool
Directions
Get directions to the Goodison Park from your house by entering your post code or location below:
If you're coming into Liverpool by train, you will arrive at Liverpool Lime Street, the city's main railway station, which is just over two and a half miles from the stadium. The city is fairly well served by rail from most British cities but for timetables and journey times, click here.

The nearest / closest train station to Everton's Goodison Park Stadium is Kirkdale, approximately 1 mile or 10 minutes on foot from the ground. You have the choice of either following the crowds up to the ground or striding ahead and taking the lead, in which case, here's some directions that might help. On leaving the station, turn right and cross over the railway bridge, walking up Westminster Road. Take the third road on your left, (Goodall Street) until it becomes Harlech Street, and you reach the main (A59) County Road which has plenty of pubs and places to eat. Depending upon which of the residential roads opposite you take, the ground is on your right when you reach Goodison Road.
The Games To See
Rivals - Liverpool Dan Turner,
23rd December 2018 - Everton v Tottenham Hotspur
Travel: Being part of the West Midlands contingent of Spurs fans, we travelled up from Wolverhampton Railway Station. The train takes one hour forty minutes so a decent little journey with enough time for a few beers on the way.

Refreshments: Before the game, we went straight into the Crown pub by Lime Street station and a had a couple of beers. There were a few Everton shirts dotted around but not many. I'm guessing they were also fans from outside the area. We then got a taxi to the Arkles just outside Anfield and had a few more beers before the short walk across Stanley Park. There was a good noise in the pub from the Spurs boys who were looking forward to continuing our good away form.

Impressions: The ground is proper old school and visible as you near the end of your walk through Stanley Park. There were quite a few Spurs walking through with little to no animosity between home and away fans. I can imagine it is quite an adrenaline-fueled walk through when there's more riding on the game or more rivalry. The away end is pretty much right off the road as you've crossed it, so happy days in terms of ease to get to.

Atmosphere: The game itself started well. Spurs could have been 3-0 up, but instead, former Gooner, Theo Walcott smashed in a goal from close range for Everton. Everton then looked to have gone 2-0 in front but the goal was ruled out for a shove on Sanchez and Spurs bounced back. Son scored from a tight angle before Dele smashed in a rebound and the half ended with Harry Kane scoring. The second half began where we'd left off as Eriksen volleyed low past Pickford. Gylfi did pull one back for Everton to make it 4-2 but goals from Sonny and Kane made it 6-2. I did miss two of them before half time going to get beers and food but the price was reasonable from what I remember. The concourse was tight, plenty of singing, a proper away ground.

Exit: Getting away from the ground was fine. A fair few Everton fans left at half time and those who didn't trickled out as it went from 4 to 5 to 6 up, followed by a quick rendition of "You should have gone Christmas Shopping" from the travelling Spurs fans.

Enjoy: Overall, Liverpool is a good city, friendly people (cab drivers, bar staff etc), No issues with Everton fans who were pretty dejected. Goodison Park is a proper football ground with all stands different to one another. As regards the Everton crowd I was surprised at the lack of noise but then again they were behind by two or more goals for most of the game. Good day out, loads of beers and a Spurs win... happy days!
TELL US ABOUT YOUR EXPERIENCES HERE: