Chesterfield FC - Proact Stadium
The Proact Stadium was opened in 2010 and can facilitate up to 10,600 people. The HTM (Main) Stand and Midlands Co-operative Community Stand run along either side of the pitch whilst the Printability and Karen Child Stands are behind the goals. The West Stand includes conference rooms and banqueting rooms, one of which has been named the Legends Lounge. All Stands have an unobstructed all seater view of the playing area and are of similar size.
Away fans are situated in the North stand although additional space is provided in the East stand if there's enough demand. Leg room is very spacious and facilities such as toilets and refreshments have been built to a high standard. The view is unrestricted and the seats aren't wooden (like the old stadium) so comfort is most certainly improved.
Proact Stadium seating plan: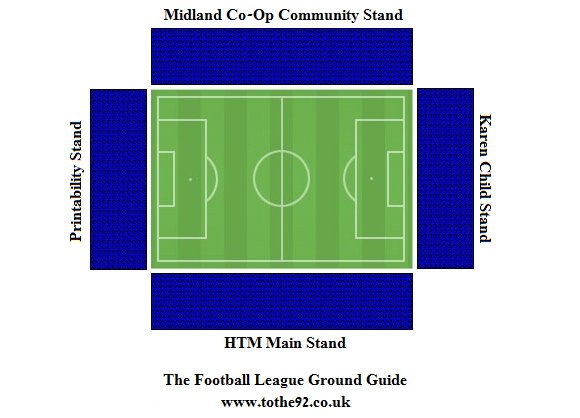 The Rose and Crown is just around the corner from the ground and is open to both home and away fans and has a very good atmosphere before games. A little further afield is the Hare and Hounds Inn situated about 5 minutes walk down Sheffield Road toward the train station next door to a bookies and a chip shop. For those that fancy a bite to eat, there is a KFC on site and next door to the stadium is a Tesco supermarket so you have a few options.
Parking is very limited in the surrounding streets. However, if you arrive early enough it is available. There are also a few car parks in the local vicinity charged at reasonable prices. At the stadium there are a few spaces available but need to be booked in advance.

Need cheap and convenient parking near the stadium? Rent a local resident's driveway and book Proact Stadium parking with YourParkingSpace.Co.Uk
Directions
Get directions to the Proact Stadium from your house by entering your post code or location below:
The nearest / closest train station to Chesterfield's Proact Stadium is Chesterfield. From the station follow the path that leads past the Chesterfield Hotel and over the footbridge. After 500 yards you'll reach Newbold Rd. Take a right turn here and bear right to continue onto Sheffield Road. The ground is situated approximately 1 mile further along on the right hand side.
The Games To See
Rivals - Mansfield, Sheffield Wednesday, Sheffield United Debbie Smaje,
>26 November, 2013 - Chesterfield v Northampton Town
Travel: I hate driving to Chesterfield from the west, because its so rural and foggy! Approaching the new ground from the west seems to be a good thing though, because there is a ton of free street parking around Chantrey Avenue and virtually no traffic getting out again!

Refreshments: Unlike a lot of new grounds, Chesterfield have at least got the location spot on, with a ton of places to go on Sheffield Road. Plenty of pubs, takeaways, even minus the obligatory retail park stuff. Couldn't be better than most new grounds really.

Impressions: The ground itself is pretty dull to be honest, think Shrewsbury and Colchester again! Four near enough identical stands with open corners, the usual really.

Atmosphere: Seemed to be built slightly better for atmosphere though, as it was pretty steep in the stands, and even though Northampton didn't have many there, I could hear them pretty loud and clear even from the far end of the ground. Unfortunately that wasn't often enough as I was sat 3 seats across from Chesterfield's drummer...

Enjoy: Its no Saltergate. As pointed out though, it at least has a good location.
TELL US ABOUT YOUR EXPERIENCES HERE: