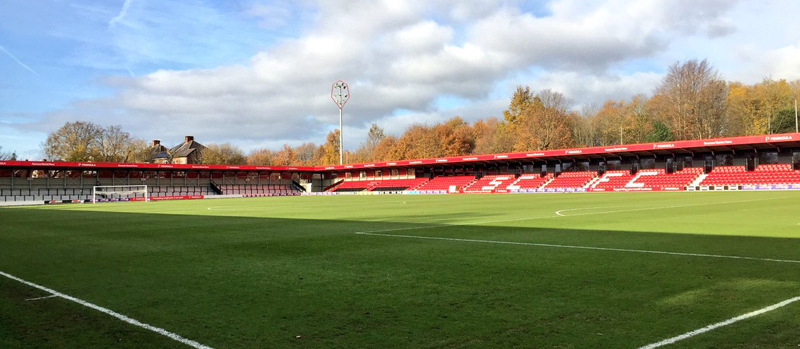 Salford City FC - Peninsula Stadium
The Moor Lane football ground has undergone a complete transformation since 2017. Four new stands have been constructed and with the corners now enclosed, it helps to generate a much better atmosphere. The last stand to be opened was the new Main Stand on the Neville Road side of the ground. This mainly all seated stand has just six rows of seats. At the back of the stand, there is a small area of standing and above there is quite a tall retaining wall. The team dugouts are located at the front of this stand. Although this stand replaced the old Main Stand, it is the new Moor Lane Stand opposite that has more facilities, with glassed corporate areas at the rear of it. It is all-seated and is of a similar height to the Neville Road Stand. Both ends have newly covered terraces. The East Terrace is almost a replica of the West Terrace and all or part of this terrace can be allocated to away fans.
Away fans are mostly housed to one side of the East Terrace behind one of the goals. This terrace is covered and the acoustics are very good, meaning that even a small number of fans can make themselves heard. In addition, 200 seats can be made available to visiting supporters in the South Stand, at no extra cost to the entrance fee. With the stadium being erected so quickly then the facilities for fans have yet to fully catch up, with portaloos in place and a burger van to supply food and beverages to visiting supporters.
Peninsula Stadium seating plan: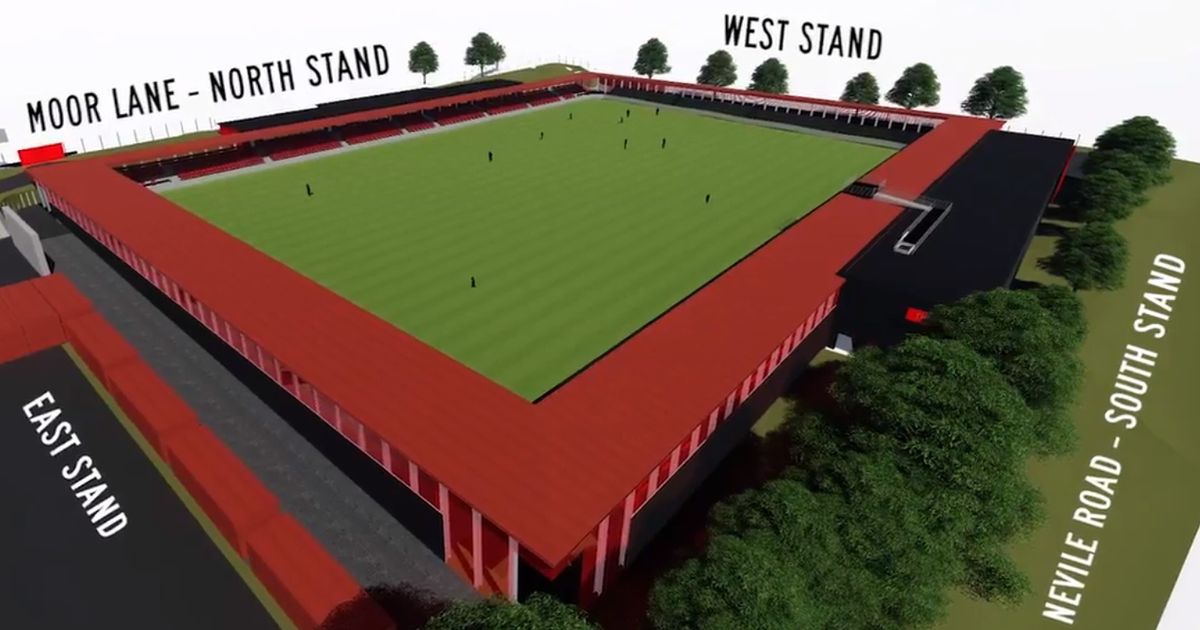 Chris Shiel says: "There is the Fairways Lodge on George Street in Prestwich is around half a mile, or a ten minute stroll on foot, along pleasant public footpaths that go through Prestwich Golf Course and over the moor, a ten minute stroll. If the weather is bad the route along the road is more preferable and is about one mile. Fairways Lodge, sometimes known locally as 'The Village' is a hotel with gym facilities and function rooms but there is a public bar that is frequented by a few locals. It is normally fairly quiet as it's slightly off the beaten track down a long cul de sac but it is the closest to Moor Lane".
A park & ride service operates on match days from the old IT Lab car park on Agecroft Industrial Estate (M27 8SJ). This costs £2 per car, and a shuttle bus operated by Swans Travel will drop you off at the stadium and return you after the match.

There are strict parking restrictions in place around The Peninsula Stadium - only residents with permits are allowed to park within these zones, which are marked at the end of the streets. These are also marked to see on social media in the build-up to each home match.

Need cheap and convenient parking near the stadium? Rent a local resident's driveway and book Peninsula Stadium parking with YourParkingSpace.Co.Uk
Directions
Get directions to the Peninsula Stadium from your house by entering your post code or location below:
The nearest / closest train station to Salford City's Peninsula Stadium is Salford Central. A 5-10 minute walk to Trinity Church (Stop NE), then use the 93 Bus.

Alternatively, From Machester Picadilly, use the X43 Bus. Or from Manchester Victoria use either the 93, 97 or 98 Buses from Shudehill Interchange.
The Games To See
Rivals - FC United of Manchester, Curzon Ashton Richard Mackey,
30 March, 2019 - Salford City v Bromley
Travel: A train from London into Manchester Piccadilly. Then a twenty-minute walk through the city centre to the bus stop on Great Ducie Street. Got off at Moor Lane, then it's a short walk to the ground.

Refreshments: I had a beer and then some food beforehand in Central Manchester. I was surprised not to see any fans at all on the bus I got, but there was a reason for this. There are hardly any facilities near the ground as it's in a residential area, but there are a range of bars and food options behind the home end, and clearly, the home fans get to the ground early to use these facilities. What was on offer looked pretty good and was notably cheap for a football ground. If I visited again I would eat and drink here rather than in the city centre.

Impressions: I was impressed by this ground - Salford City have a lot of money behind them but they've spent it well in constructing the best non-league venue (discounting clubs that used to be in the league) I've been to. It's a compact 5,000 at the moment, but there's enough room around three of the sides for the ground to be expanded if the club continues to prosper. The away end has a roof to help fans make some noise, and seats were available too along the side as there wasn't really any segregation for this match. I particularly liked the floodlights in the shape of the club crest - touches like that show the architect has put some thought into the design and hasn't just churned out an identikit box of a ground.

Atmosphere: Salford were on top for a lot of the game as expected, but Bromley defended well to keep the score goalless. Strangely it all went wrong for Bromley after scoring in the 85th minute - we immediately shifted into ultra-defensive mode, invited a lot of pressure and let Salford score an 88th minute equaliser and then a 93rd minute winner. Had Bromley not taken the lead they probably wouldn't have lost the game.

Exit: The away end is at the 'right' end if you're getting a bus back into town, so I managed to get near the front of the bus stop queue. Lots of buses go down Bury New Road so you wouldn't have to wait too long in any case.

Enjoy: I'd happily visit again, but Salford are clearly heading for the Football League and will stay there when they arrive, so the chances of future visits with Bromley are slim. I'd expect this to be a popular trip for other away fans.
TELL US ABOUT YOUR EXPERIENCES HERE: