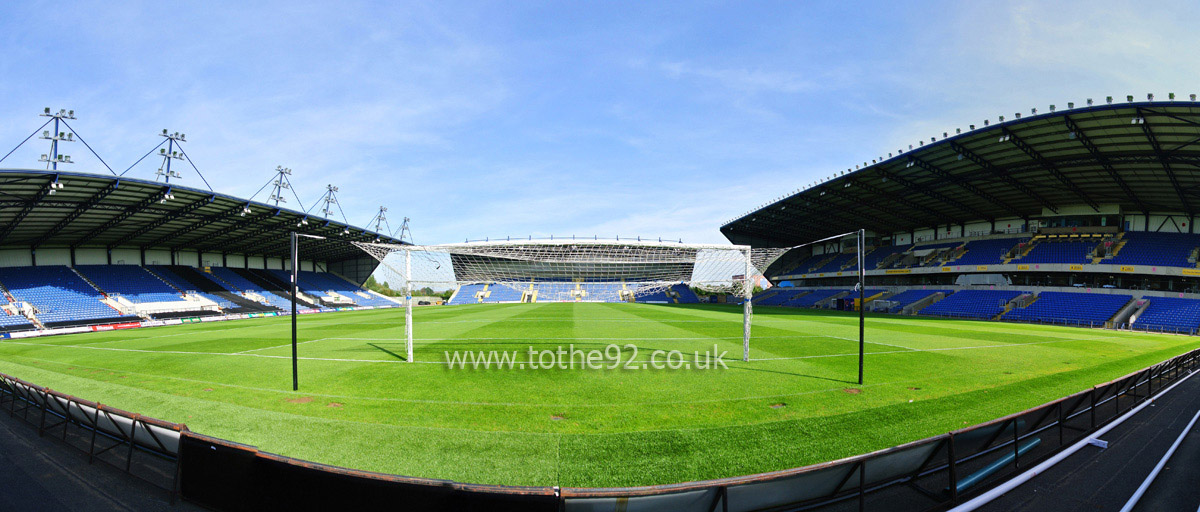 Oxford United FC - Kassam Stadium
The Kassam Stadium consists of just three sides with the open west end of the ground situated behind one of the goals. The North Stand is divided for use by both home and away supporters and is the largest in the stadium with a capacity of 5,026. The East Stand is home to the more vocal home supporters and is one single tier behind the goal where as the South Stand is the main structure of the stadium, housing the Quadrangle conference centre, the Exhibition Bar, the club offices and changing rooms, and a row of 28 glass-fronted executive boxes. The South Stand is divided into two tiers, with the lower tier including the ground's Family Section.
Visiting supporters are situated towards the open end of the North stand. Views are very good and unobstructed as you'd expect from a ground built in the 21st century, whilst facilities and refreshment bars are very good too.
Kassam Stadium seating plan: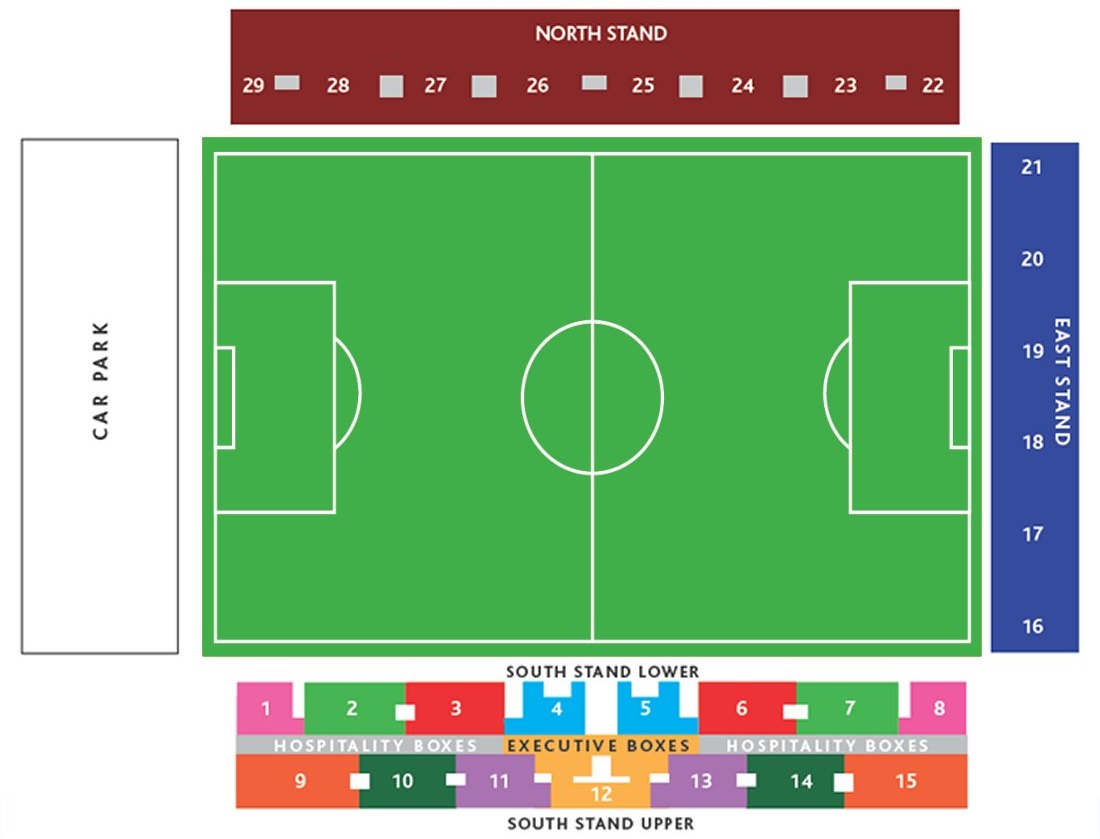 Bob tells me: For sensible away fans the nearest pub is the Catherine Wheel in Sandford-On-Thames (http://whatpub.com/pubs/OXF/AS-35/catherine-wheel-sandford-on-thames) which is approx 10-15 minutes walk. Few pubs in town would be an issue for away fans, though the most likely for groups are the large bars on George Street - for ale drinkers there are a fair few decent pubs in the centre (http://oxford.camra.org.uk/oxford-city-centre-pubs-map/) including The Bear which dates from 1242. There are however, many places in the vicinity to grab a bite to eat before or after the game.
Parking is available at the stadium if you arrive early enough and what's more, it's free. There are 2,000 spaces available and well worth taking advantage of. There is hardly any street parking. You're warned to be very careful when parking anywhere else, especially on verges, as the wardens are very busy around the ground. As one Oxford fan has warned: "Do not rely on what other cars have done, stick to marked parking bays on roads and do not think that because your car is completely off the road on a verge causing no obstruction to anyone that it means any double yellow restrictions do not apply - they do, and you will get a nice parking fine to take home with you!

Need cheap and convenient parking near the stadium? Rent a local resident's driveway and book Kassam Stadium parking with YourParkingSpace.Co.Uk
Directions
Get directions to the Kassam Stadium from your house by entering your post code or location below:
The nearest / closest train station to Oxford United's Kassam Stadium is Oxford. The railway station is situated in Oxford city centre which is approximately 4 miles from the stadium. You can then either take a taxi to the stadium which will cost approximately £8.00, or one of the many buses that go past the ground.
The Games To See
Rivals - Swindon, Reading Oliver Rees James,
Many Dates - Oxford United v Many Teams
Travel: Easy access from the A34, also multiple busses running from the city centre and other villages so access is pretty easy. There is ample on site parking but you need to arrive in good time to get a space with a quick exit. You can also park in surrounding housing estates.

Refreshments: On site is a TGI Friday and a few other food outlets, the stadium itself has a restaurant and bar. A few burger vans are on site too so there is plenty to choose from. Local pub is the Catherine wheel located a few minutes from the ground.

Impressions: Nice clean ground, great view from any seat as there are no supporting pillars to obscure view. All covered too so only the front few rows get wet on a rainy day. Atmosphere is always good, East stand has the loudest fans that sing all game long and since an upturn in fortunes the crowds are always of a good size for a league one team which means it always has a good atmosphere. Oxford are renowned for having great support, away fans will second that.

Facilities: Plenty of toilets, leg room is great, although as an away fan you'd be standing anyway so wouldn't make much difference! Food in the stadium is basic, much like any football ground. It's not like a gourmet restaurant.

Exit: Be sure to get a good parking space as it can take a while to leave if you parked on site.

Enjoy: Always enjoy a trip to Oxford! Swindon fans might disagree!
TELL US ABOUT YOUR EXPERIENCES HERE: