Sheffield United FC - Bramall Lane
Bramall Lane is the oldest league stadium in the world and hosted its first game in 1862 whilst hosting the worlds first ever floodlit match in 1878. There are few bad seats in the house, although the Hallam FM stand behind one of the goals has a few supporting pillars and can affect your view. The whole stadium is full of character as you'd expect for a stadium this old. All 4 corners are filled in with either seating or admin offices but it adds to the overall feel and also helps to keep the atmosphere in.
Visiting supporters are situated in the lower tier of the Bramall Lane Stand where up to 3,000 travelling fans can be catered for. The views are unobstructed and very good whilst the facilities and leg room are also reasonable. Tickets can be purchased on the day although I always recommend getting them in advance.
Bramall Lane seating plan: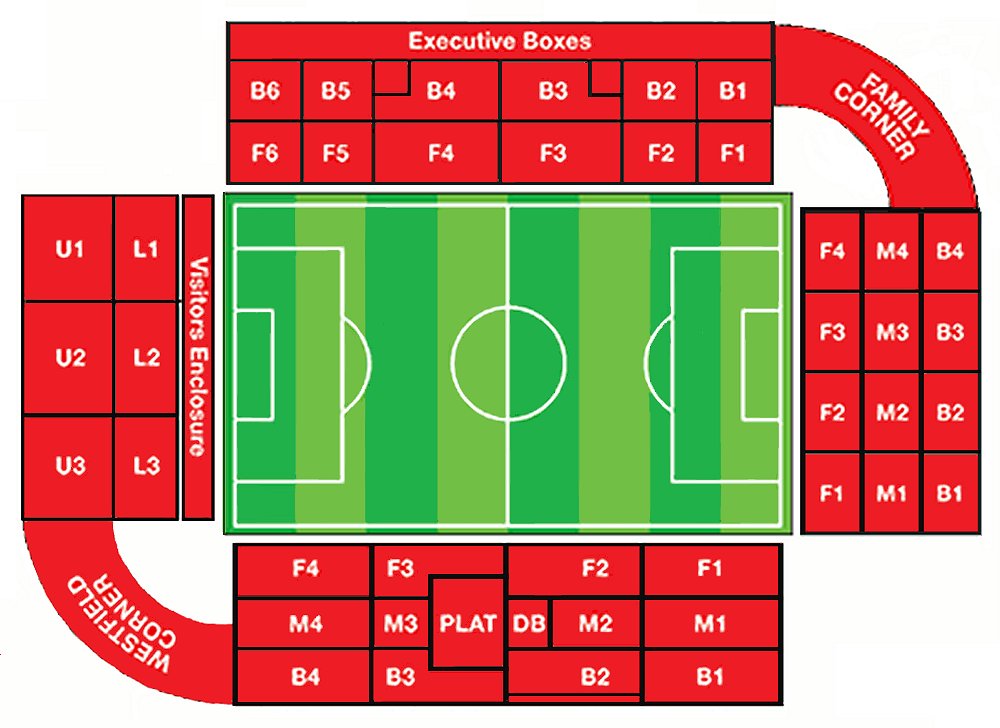 There are a good set of pubs near to the ground including The Golden Lion which is located in Alderson Road, off Woodhead Road and is a 5 minutes walk from the away entrance. It welcomes both home and away fans and there is a healthy level of banter in here on match days.

The city centre has some excellent pubs and is only a ten minute walk away, so drinking here and walking to the game is certainly a viable option.
A lot of people suggest in Meadowhall Shopping Centre and taking a tram in to avoid the town centre but in all honesty, if you're going to arrive early enough to do that you'll probably be early enough to find street parking in the roads surrounding the stadium. Do arrive early though, there's lots to see so it'll be worth your while.

Need cheap and convenient parking near the stadium? Rent a local resident's driveway and book Bramall Lane parking with YourParkingSpace.Co.Uk
Directions
Get directions to the Bramall Lane from your house by entering your post code or location below:
The nearest / closest train station to Sheffield United's Bramall Lane Stadium is Sheffield. The mainline railway station is around a 10-15 minute walk from the football ground.

Fans leaving the main station entrance should walk up the steps ahead, or the slope for those who cannot manage stairs. Visitors should then turn left and then follow either of the 2 main roads heading west to arrive at the ground.
The Games To See
Rivals - Sheffield Wednesday, Barnsley, Leeds, Rotherham David Parthick,
2 February, 2019 - Sheffield United v Bolton Wanderers
Travel: Bramall Lane is within walking distance from downtown Sheffield. Parking was easy however and I found a paid for parking area just a short walk from the stadium (five minutes).

Refreshments: Getting drinks etc at halftime a nightmare as really slow service, took us 20 minutes to get a drink. The food concourse, and it's always a complaint of mine, is over priced and doesn't really offer anything other than the usual range of highly over priced pies and the like.

Impressions: A very good enclosed stadium which adds to the atmosphere. Seating ok and stewards were fine and able to put us towards our seats.

Atmosphere: The atmosphere was great and was the best part. It wasn't a sellout, but still roughly 25k people in the stadium.

Anything Else: The oldest professional football stadium, in the city where the modern rules were born. Great history, and currently serving up some great matches too. If you're a football fan get down to see the Blades, and if you're able, book a pre-match tour of the museum and ground too.

Enjoy: Leaving the ground and having won, the home fans I walked alongside back to my car were gracious in defeat and welcoming. I have no complaints and enjoyed my trip. Would definitely visit again.
TELL US ABOUT YOUR EXPERIENCES HERE: