Manchester United FC - Old Trafford
With space for 76,212 spectators, Old Trafford has the second largest capacity of any English football stadium after Wembley, the third largest of any stadium in the United Kingdom, and the eleventh largest in Europe. It is one of two stadia in the country to have been given a five-star rating by UEFA. It offers unrestricted views from all areas and, although high up, the view from the top of the third tier is something quite special. It's a traditional football stadium and on European nights especially, the atmosphere is unrivalled.
Visiting supporters are accommodated in the Lower South Stand and South East corners of the ground which offer exceptional unobstructed views of the pitch accommodating up to 3,000 fans. Facilities in terms of toilets are very good but refreshments can be expensive and queues at half time are very long. Leg room between rows is at a premium but no overly uncomfortable.
Old Trafford seating plan: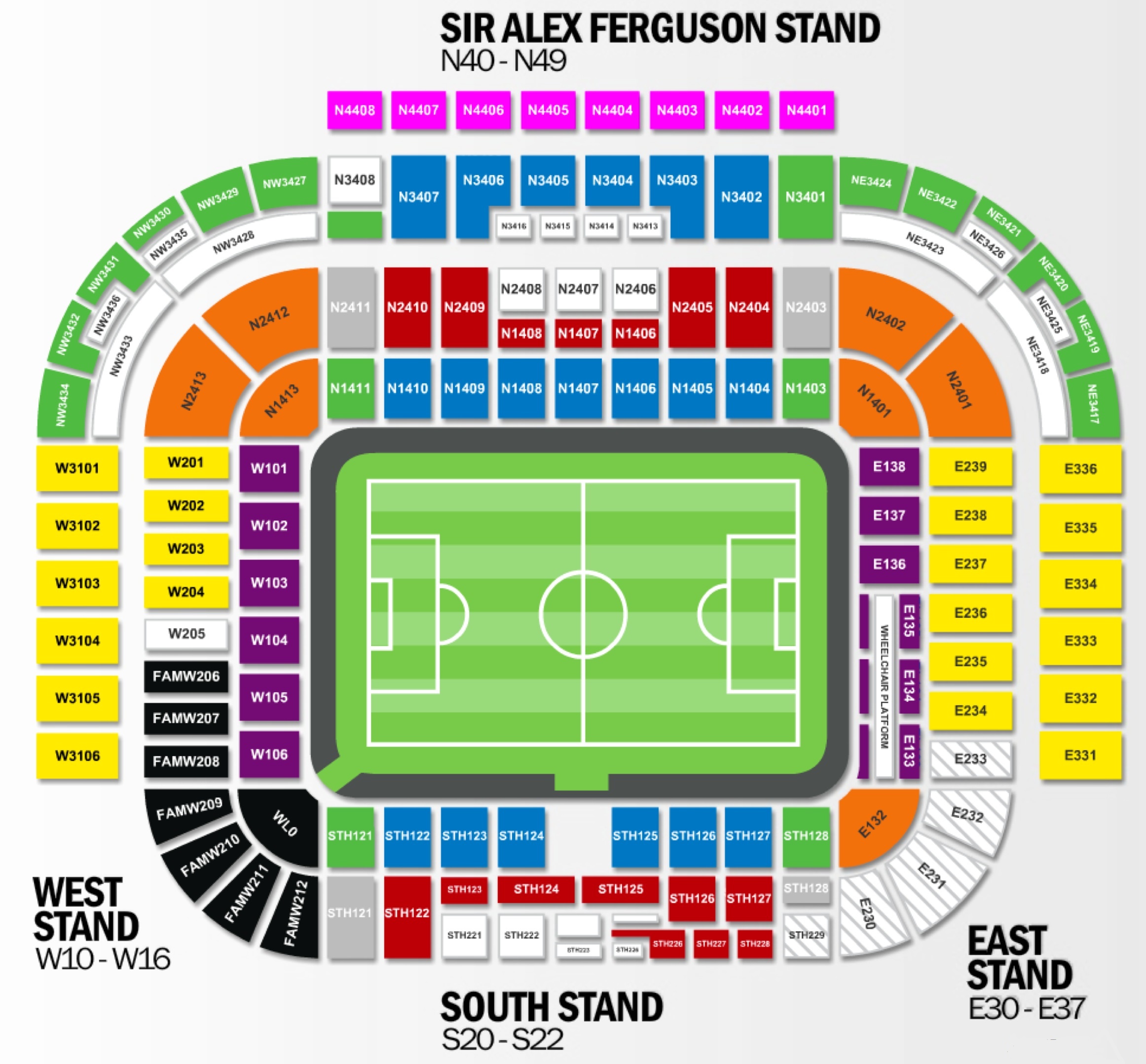 Pubs in the immediate vicinity include the Trafford, at the junction of Sir Matt Busby Way and Chester Road, which, primarily due to its location has a tendency to get very busy as kick off approaches. It doesn't offer anything out of the ordinary, but there are several small screen televisions showing the early kick off's. Bishop's Blaize is a typical Wetherspoons establishment on Chester Road, round the corner from Sir Matt Busby Way, which offers the usual food and drink fare. Again, it's pretty standard stuff.

Lou Macari's fish and chip shop at the top of Sir Matt Busby Way is always incredibly popular before kick off and is handily situated 2 minutes from the ground and next door to a bookies to get that pre match bet on!
Parking can be expensive around the stadium. Advice from fans would be to use Salford Quays Lowry Mall, a ten minute walk away from the stadium, the cost of which is £3. Street parking is very limited and you'd need to arrive very early to be in with any chance of finding a space within a 15 minute walk. There are many 'football' car parks ranging from £6 to £10 per car.

Need cheap and convenient parking near the stadium? Rent a local resident's driveway and book Old Trafford parking with YourParkingSpace.Co.Uk
Directions
Get directions to the Old Trafford from your house by entering your post code or location below:
Manchester is well-served by trains from all over the United Kingdom. There are three mainline stations - Victoria, Oxford Road and Piccadilly which form a triangle in the main city centre. Most trains stop at the larger Manchester Piccadilly, though some Liverpool - Leeds/Bradford/Huddersfield use Manchester Victoria instead.

The nearest / closest train station to Manchester United's Old Trafford is within the stadium itself and the railway station is often referred to as Manchester United FC Halt or Old Trafford Halt on the Liverpool Lime Street - Manchester Piccadilly line, open on match days only. Entrance to the ground is via a narrow set of turnstiles off the platform.
The Games To See
Rivals - Man City, Liverpool, Arsenal, Chelsea Keith Clark,
27th August 2018 - Manchester United v Tottenham Hotspur
Travel: A 4-hour drive from North London. The M6 is awful with more roadworks than there actually are clear sections. We booked someones driveway on Justpark for £8 near the cricket ground which was really easy, then just a 20 minutes gentle stroll to the ground, but there were lots of other matchday car parks in the area.

Refreshments: We used the KFC about five minutes walk from the ground as we arrived about thee hours before kick off. It was quite empty when we got there but soon filled up, they seemed really unprepared for the number of people that would be there with long queues and long waits for food, with ours and other peoples meals being messed up.

Impressions: There is no doubt that Old Trafford is one of the more impressive grounds you will visit with plenty of good communal areas around and plenty of food vans. It seems quite touristy with lots of people looking like they were making their first visit and lots of foreign groups. It reminded me a bit of walking around London's West End with all the group photos going on.

Atmosphere: A real game of two halves with United all over us in the first half and with better finishing they probably could have been three up by half time. The second half was a completely different matter with Spurs well on top from the restart. Goals from Kane and Moura in the space of three minutes pretty much sealed the result with Spurs missing several other clear cut chances before Moura's third in the final few minutes capping a great result for Spurs. As with most away games the away fans completely outsung the home crowd but even when United were well on top in the first half it seemed very quiet from the home crowd with just a few chants every now and then, I expected much more from such a big crowd. We wore our colours and never felt in any way under any threat or had any negative comments, had a good chat with a local lad while queuing to buy water even he commented on the fact that it seems like a tourist attraction. We walked all around the ground and all the stewards were friendly and helpful if you had a question. One important thing is they won't let you take any bags into the ground even people with small backpacks were made to go and hand them in for safe keeping during the game at the cost of about £5 which I imagine is a pain when leaving the ground and having to queue to get them back. A good view from all seats in the away section the seats felt quite small and poor legroom but who sits down at an away game?.

Exit: It was definitely a good idea parking away from the ground as the traffic near the stadium was a nightmare. The roads were still quite busy until you reached the slip road for the Motorway then pretty clear all the way except for the dreaded M6 roadworks. But back home in Enfield in just under four hours from the final whistle.

Enjoy: A long but great day out with a fantastic result making it a much more pleasant journey on the way home.
TELL US ABOUT YOUR EXPERIENCES HERE: