Coventry City FC - CBS Arena
The CBS Arena has an all seated capacity of 32,500 as well as a 6,000 square-metre exhibition hall, a hotel, a leisure club and a casino. The site is also home to Arena Park Shopping Centre containing one of the UK's largest Tesco Extra hypermarkets. Unfortunately, the club have yet to sell out the capacity for any home league game although the feat was managed in a cup tie against Chelsea. A fact that will probably only change with promotion to the Premier League.
Visiting supporters are situated to one end of the Jewson south stand where upto 3,000 supporters can be accomodated for. There isn't a single pillar throughout the ground meaning you're view of the playing area is unrestricted from all positions. The size of the ground compared to the general home gate make it quite difficult for home and away fans to generate a good atmosphere.
CBS Arena seating plan: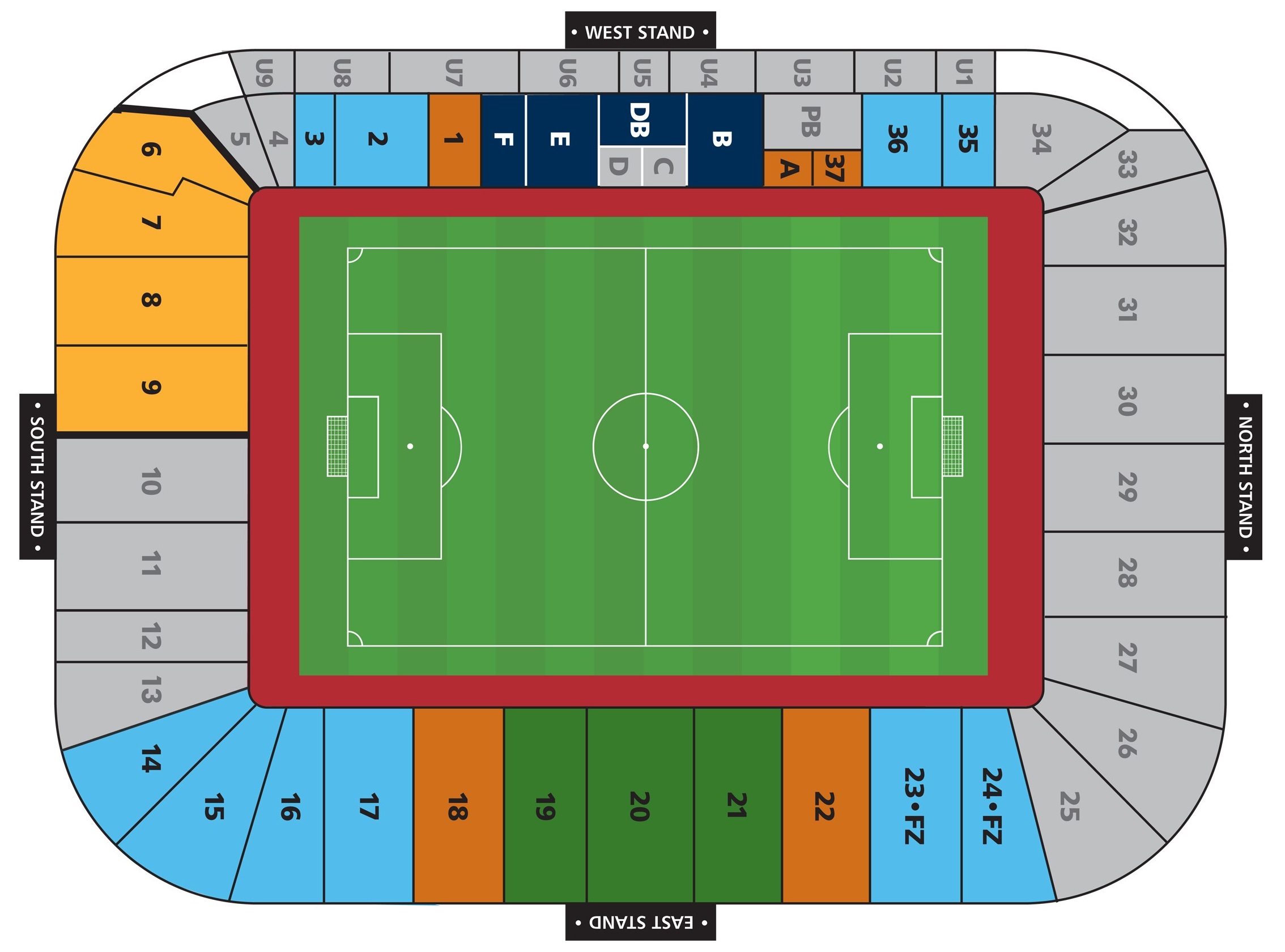 Pubs admitting away supporters are few and far between and anyone fancying a drink is advised to either stop short on their journey to Coventry or to drink in the City centre. Avoid wearing club colours, baseball caps and burberry-style clothing and you should get a decent pre-game drink.

The nearest shopping area is Arena Park at the back of the ground. There is a large Tesco's, a Boots, Burger King, a Library and lots of market stalls. There is a Pizza Hut across the car park.
Parking is very strict in surrounding streets with a residents only format in play leaving no real choice but to either, take up one of the park and ride options around the CBS at a cost of between £5 and £7; or spend over £25 in the Arena shopping centre and park there free of charge. Alternatively, you can book in advance to park at the ground in one of the clubs designated parking spaces at a cost of £10. Jonny Shuttleworth informas me: There are many many pubs situated on Foleshill Road behind the CBS that offer parking for as little as £3 on match days.

Need cheap and convenient parking near the stadium? Rent a local resident's driveway and book CBS Arena parking with YourParkingSpace.Co.Uk
Directions
Get directions to the CBS Arena from your house by entering your post code or location below:
The nearest / closest train station to Coventry City's CBS Arena is Coventry Arena, which is right outside the stadium. Coventry station is some four miles away and is on the Virgin Cross Country Line and is also served by Central Trains.

There is a taxi rank outside Coventry Station and it will cost around £10 or so for a single journey to the ground. Similarly in the city centre, there are a number of taxi ranks. Alternatively try one of the local firms: Central 02476 333333 are usually the most reliable.
The Games To See
Rivals - Aston Villa, Leicester, Birmingham, West Brom, Wolves Yaz Shah,
7th April 2019 - Coventry City v Bristol Rovers
Travel: We left North West London at 10am and got there before 12 noon. I drove and took the M1 then M6 and the A444. I parked in the stadium car park.

Refreshments: We walked around the ground, talking to other Rovers fans. Had a drink in the Grosvenor Casino. I did not speak to any home fans.

Impressions: I have been here before; see my review from two years ago. It looks very concrete from the outside.

Atmosphere: There were 2,000+ away fans in attendance. Coventry needed to win to keep up their play off hopes. Our fans silenced their drum within the first 20 minutes as well as their fans. There was a large police presence but no real trouble. No issues. I did not buy anything inside the ground. Coventry much better than us; we were terrible in the first half so 0-0 was a good result for us.

Exit: Waited around for 20 minutes to get out of the car park and was back home by 19:00. There is Free WiFi at the ground but need to give your details - see CBS Arena WiFi. Fans were allowed to go outside the stadium to smoke at half time if they wished.

Enjoy: A great result for us considering how we played. Still in relegation trouble. Generally, a nice sunny day, no traffic and one point so quite a good day.
TELL US ABOUT YOUR EXPERIENCES HERE: