Port Vale FC - Vale Park
Vale Park is all seated with a decent view from all areas and with the capacity being set at 17,900 it is never a problem to get in on the day. It has only ever been 100% sold out for a league game once, v Stoke City in 1990, the first meeting at the ground for 33 years. There is a small track which separates the pitch from the stands and runs all the way round the ground. With the exception of the Lorne Street Stand, all are single-tier with supporting pillars which can obstruct your view somewhat, though this is only rarely a problem due to the average attendances at Vale Park over recent seasons.
Visiting supporters are situated in the Signal One Stand behind one of the goals, and this is the first stand you come to on Hamil Road. The view is very good generally although there are 4 supporting pillars that can get in the way if you sit more than half way back. It caters for more than 4,500. Leg room is reasonable but if you're 6'5 like me, you may want to find a seat with no-one in front of you!
Vale Park seating plan: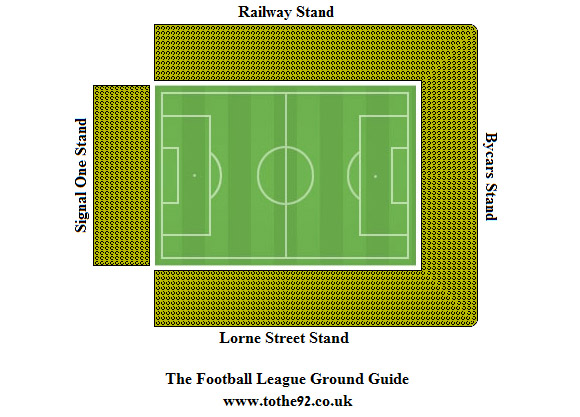 The nearest pub is on the away fans car park, called Tommy Cheadle's and everyone is welcome apart from large groups of away fans for obvious reasons. The licensee of this place used to be Pete Conway, Robbie Williams' father. The walk into the centre of Burslem is no more than 10 minutes. Half way into town, you'll come across the Vine at the bottom of Hamil Road which welcomes both sets of fans and gets absolutely crowded pre-match.

Outside there are usually a couple of burger vans, but further up Hamil Road there is a cafe just past the church. Further on still, the second street on the right, May Street has a chip shop 100 yards from Hamil Road. Down into the town you fill find restaurants and a Kentucky Fried Chicken.
Car parking is available opposite the stadium in a large car park charging £4 per car on match days. However, street parking is also available in the roads surrounding the stadium if you arrive early enough to take advantage. It's worth doing so at a lot of grounds nowadays as the cost of parking is only going upwards by the season.

Need cheap and convenient parking near the stadium? Rent a local resident's driveway and book Vale Park parking with YourParkingSpace.Co.Uk
Directions
Get directions to the Vale Park from your house by entering your post code or location below:
The nearest / closest train station to Port Vale's Vale Park Stadium is Longport, less than two miles from the ground, although not many trains stop there nowadays with just the hourly service from Crewe to Derby using the station. Journey time from Crewe is 20 minutes and a single costs £3.80. From Derby, the journey time is just under an hour and the cost £6.50.

The more widely-used mainline station is Stoke-on-Trent which is served by regular trains from Birmingham, Manchester and London and is located around four miles away. It's not really viable to walk from here so a bus or taxi ride to the ground is the best option. There is a taxi rank at the station so you wont struggle to find one neither will you have to wait long.
The Games To See
Rivals - Stoke Ryan Hunt,
14 September, 2014 - Port Vale vs Bristol City
Travel: I used the supporters coaches provided by BCFC. Getting to the ground wasn't too bad although we did need a police escort to and from the motorway which was a little intimidating.

Refreshments: The main highstreet is only a 5 minute walk away so there were plenty of pubs down there all accepting away fans. I went into the leopard opposite the robbie williams building, a nice quiet little pub with a selection of ciders and lagers from £2.50.

Impressions: The stadium really didn't look much on the outside and it was very basic on the inside. The overall atmosphere was quite dull as the 490 city fans outsung the 3000 home fans throughout the match which is understandable as city came away comfortable 3-0 winner. The steward were not a nice bunch of people. Very un-helpful and quite frankly rude. At half time One of the steward even lashed out at a city fan who dropped his drink which caused a mini scuffle between fans and stewards, this resulted in the steward being escorted away by some of the huge police presents. At full time it nearly kicked off between fans and stewards again as we were all being rushed back onto the coaches without time to stop and smoke. It was a very intimidating atmosphere as there were far too many stewards and police for a non-derby tuesday night game.

Facilities: The away end had one bar and one set of toilets open as there weren't alot of city fans as most were going fleetwood on saturday. I didn't use the food/bar stall but the toilets were clean and rather large.

Exit: Not at all easy as the 100 odd stewards and police bullied us onto the coaches and escorted us back to the motorway. After that a 3 hour slog on the m6/m5 back to Bristol.

Enjoy: I wouldn't recommend coming here with a young family as it isn't a very nice place. I enjoyed the 3-0 win but not the overall experience. I probably won't go back again.
TELL US ABOUT YOUR EXPERIENCES HERE: