Sheffield Wednesday FC - Hillsborough
Hillsborough has hosted home to Sheffield Wednesday since 1899 and despite redevelopment on numerous occasions, still retains much of its traditional charm. The more vocal Wednesday fans are seated opposite the away fans, in the Kop end. Both ends have a number of supporting pillars which can impede your view but the stands either side of the pitch offer an unobstructed view of the action from anywhere although leg room in the South Stand is at a premium.
Up to 3,750 visiting supporters can be catered for and are situated in the upper tier of the Leppings Lane west stand. The views are restricted from most seats as there are two very prominent supporting pillars throughout the stand and leg room is at a premium. Refreshments are reasonably priced and there's quite a large range including burgers and pies.
Hillsborough seating plan: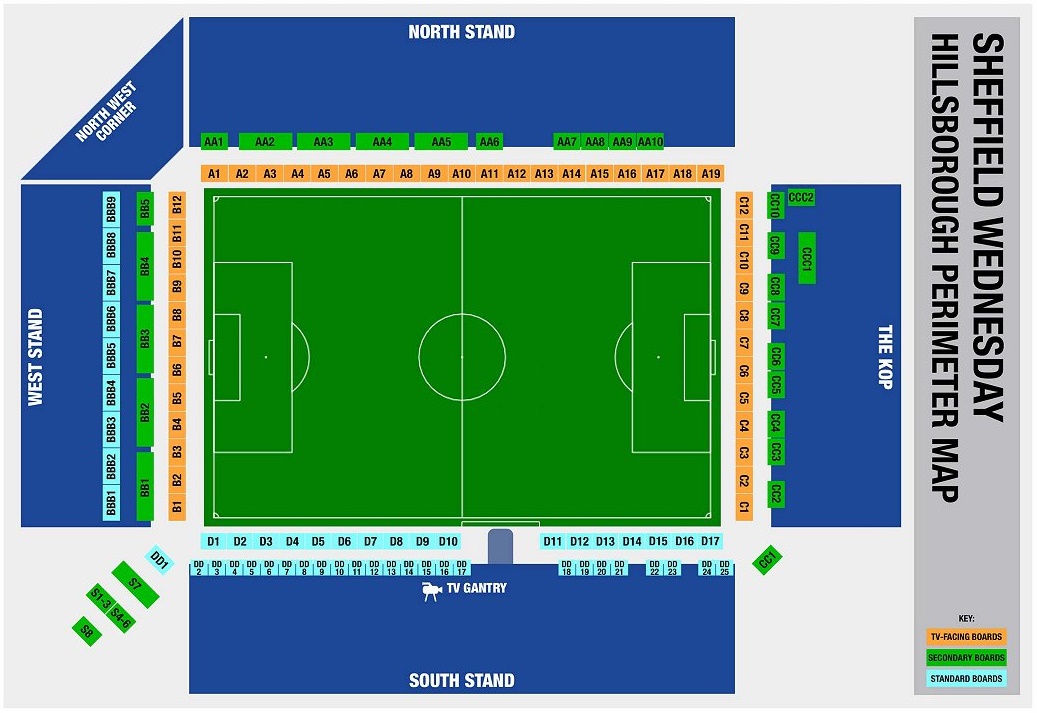 Although there are some pubs closer to the stadium, you might be better off staying in the city centre and getting a taxi or the Supertram half an hour before kick off as at least then you have a choice of pubs and don't have to settle for one that has been 'designated' for you. Pubs of note in the city centre are The Howard and The Globe which are near the train station and The Old monk welcomes away fans and serves food.
Parking is freely available in the surrounding areas and there is a car park directly behind the kop open to both sets of supporters costing £5 per vehicle. There are other private car parks along the A61 that charge approximately £4. Worth looking around before making a decision. Could pay for a burger at the ground.

Need cheap and convenient parking near the stadium? Rent a local resident's driveway and book Hillsborough parking with YourParkingSpace.Co.Uk
Directions
Get directions to the Hillsborough from your house by entering your post code or location below:
The nearest / closest train station to Sheffield Wednesday's Hillsborough Stadium is Sheffield but it's still a fairly healthy 3 miles away.

From the Railway Station, Flat Street Bus Terminus is a one-minute walk - cross over at the pedestrian crossing, and follow the signs. Bus numbers 53, 77 and 80 all run from Flat Street to Hillsborough.
The Games To See
Rivals - Sheffield United, Leeds, Rotherham, Barnsley, Doncaster Alan Darkwell,
6 April, 2019 - Sheffield Wednesday v Aston Villa
Travel: We parked in side street near aay end so easy to get out after game..after battling past the hundreds of police in attendance. Also heard that trams had been cancelled so long walk into town for those on trains, etc

Refreshments: No alcohol served for certain visiting fans (we are all not hooligans). Reasonable selection of food however.

Impressions: Yes, it's showing it's age now, but, if you're like me and like your football grounds traditional and classic, then there's not many better! The outside and concourse area's are looking tired now but once inside the 4 huge stands all clad in blue and white seats look superb, especially when the lights are on! But the facilities, especially in the Kop, north and west stands are in need of improvements.

Atmosphere: Very loud when the goals went in but until then it really wasn't anything to write home about.

Enjoy: It's a special ground. It'll be missed once it's renevated or replaced so if you haven't been, you should make a point of visiting.
TELL US ABOUT YOUR EXPERIENCES HERE: