Morecambe FC - Globe Arena
The stadium holds up to 6,476 supporters, with 2,173 seats available in the Main Stand, which runs the length of one side of the pitch. Opposite the Main Stand is an uncovered terrace with a capacity of 606. The idea of building the new stadium like this was to give off a similar feel to the ground as that at Christie Park. At either ends of the pitch are the home and away stands, with the home end holding a maximum of 2,234 supporters.
Visiting supporters are situated on the East Terrace behind one of the goals. Up to 1,389 fans can be accommodated for although you'll want to arrive early enough to get yourself a good position. A further 300 seats can be made available in the Main South Stand. Facilities are everything you'd expect from a new stadium with toilets, refreshments and leg room all meeting expectations and all areas of the stadium have unobstructed views making for a nice friendly visit for all away followings. Staff and stewards are very friendly and ejections are likely to be kept to a very minimal level as was always the case at Christie Park.
Globe Arena seating plan: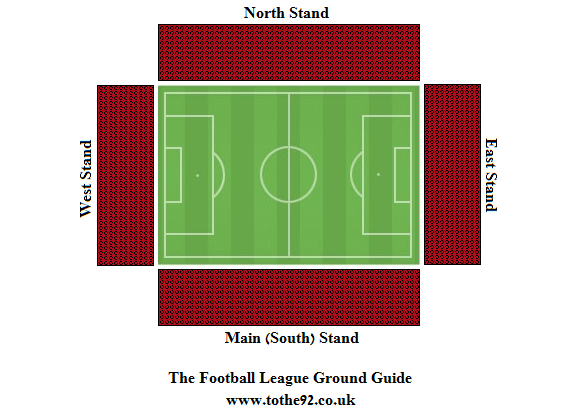 The Regent Leisure Caravan Park is about a five minute walk away from the ground, has a good selection of beer, serves food and has a secure parking area which is £3 all day. On top of that, it's away fan friendly. For those with time on their hands there are plenty of bars to be found along the seafront. The best of these appear to be the King's head and the Ranch House Pub, while there is a Wetherspoons pub for all those arriving by train.
There is a small car park at the stadium, but there aren't many places available so arrive early if that's your planned parking spot. There is plenty of street parking in the surrounding areas however and you'll be unlucky if you have anymore than a 10 minute walk to the stadium.

Need cheap and convenient parking near the stadium? Rent a local resident's driveway and book Globe Arena parking with YourParkingSpace.Co.Uk
Directions
Get directions to the Globe Arena from your house by entering your post code or location below:
The nearest / closest train station to Morecambe's Globe Arena is Morecambe. The railway station is approximately one mile from the stadium (around 15-20 minutes on foot) but is handy for the promenade if you want to have a drink or two and make a real day out at the seaside before the match.

There isn't a taxi rank or office at the train station, however, there are 3 ranks around the town, 2 on the promenade and a further one by the Arndale Centre. The journey to the stadium should cost around £4 if you don't fancy the journey to the ground on foot. If you want to book a taxi in advance, try Coastal on 01524 424424, A1 on 01524 423300 or 848848 on 01524848848.
The Games To See
Rivals - Accrington, Lancaster, Southport Bob Halling,
2 May, 2015 - Morecambe v Southend United
Travel: We drove up from Winchester (SUFC fan living in exile);Good run considering it was a Bank Holiday Weekend. Top tip; Avoid going through Lancaster, take the next exit (J35 I think), signposted Carnforth, and cut back on yourself - Morecambe well sinposted and not far. Lots of free car parking in local streets nearby. Max 10 minutes walk away.

Refreshments: Hurley Flyer adjacent to the ground; Marston's pub, away fans welcomed. Regent Leisure Centre; really a caravan park...also decent beer, snacks, again away fans welcomed. TOP TIP; We were not allowed in the Regent after the game by "security"..not sure about the Hurley though?

Impressions: My first time visiting with my son; no issues at all. Considering over 2,200 of us made the trip, no bother or any sign of heavy handed stewarding, in short Excellent! Outside the atmosphere was expectant (possible automatic promotion for Southend), inside the ground it was rocking! Morecambe allocated their North Terrace to allow as many visiting fans as possible to make the long trip.

Facilities: We sat in the South Stand, good leg room, stairs a bit of a struggle for the elderly or infirm - unrestricted view of the pitch. Catering; The ladies coped admirably considering the numbers visiting. Long, but patient queues, all got served eventually. The pie and gravy at £3.50 was good fare. Toilets; Clean, with plenty of room to allow easy access/exit.

Exit: Stayed the night in Morecambe. No issues getting away - fans mingled freely. Downtown; no gloating, sympathetic words from the local folk.

Enjoy: Would've loved it had we won (lost 3-1), Morecambe are our bogey team...I dread to recall our record against them (it has been rumoured we've won just once in 26 previous meetings, although I couldn't swear this as fact). In summary, I would recommend a visit; decent ground, welcoming, friendly staff and fans - very reasonable prices.
TELL US ABOUT YOUR EXPERIENCES HERE: