Derby County FC - Pride Park
The Pride Park Stadium was completed in 1997 and replaced Derby County's previous stadium, the Baseball Ground. It is a terrific stadium outside and in, with the atmosphere generated when the home team scores, something to behold. Much like the new stadiums at Coventry, Reading and Cardiff, 3 sides of the bowl-shaped Pride Park are single tier with an extra level above the Main stand. Views are terrific from all sections.
Visiting supporters are situated in the corner between the East and South Stands. General league allocation limit's visiting teams to 2,700 although in excess of 5,500 can be catered for on cup games. The design of the stadium allows for excellent atmospheres and along with the view, facilities and leg room all being excellent, Pride Park makes for a very enjoyable day out.
Pride Park seating plan: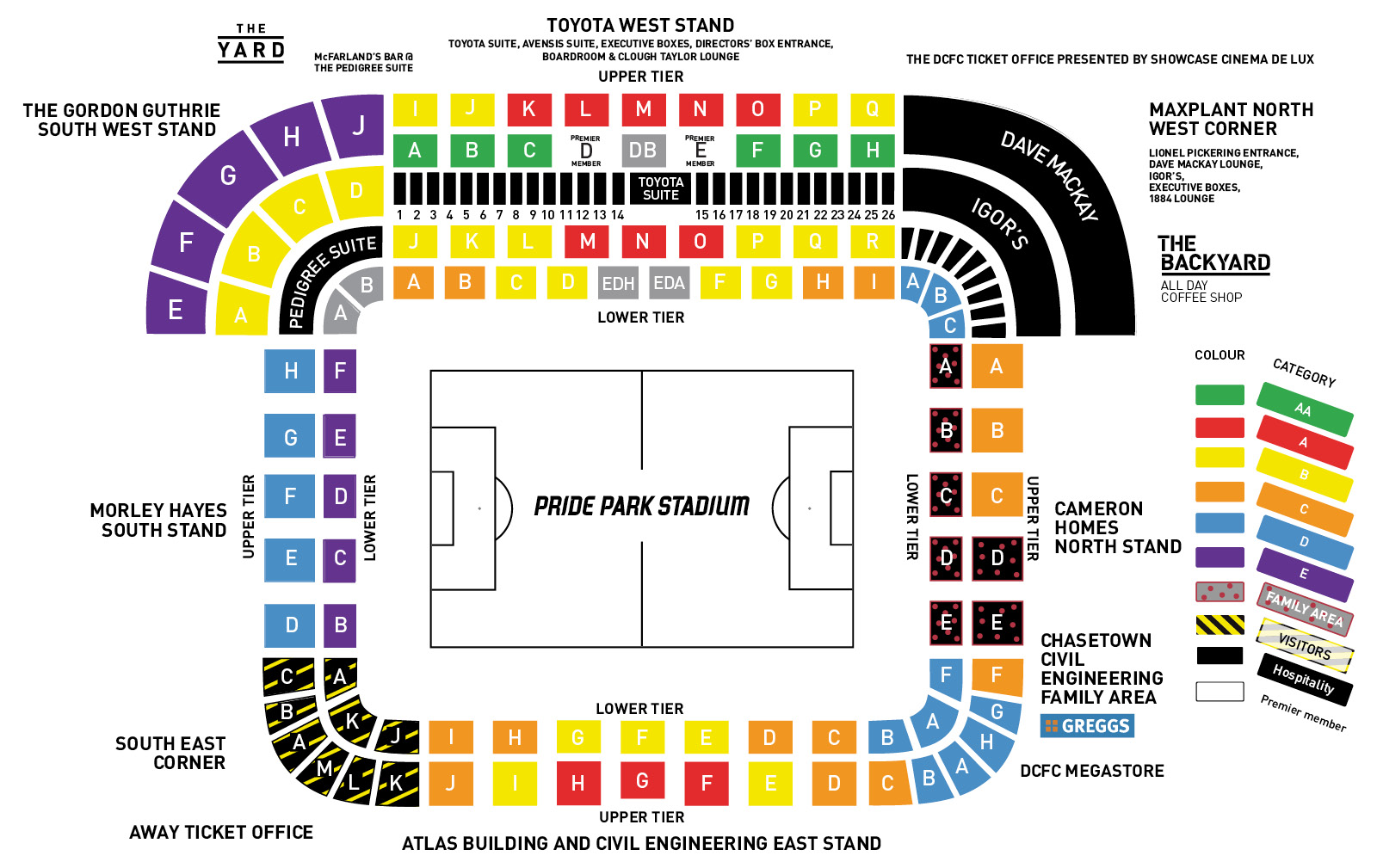 If you arrive by train, turn right as you leave the station and you'll come across a couple of away supporter friendly pubs such as The Brunswick or The Alexandra Hotel. Both serve a wide range of food and drink.

Away fans are also very welcome at the pub "Cross Keys.' They offer an array of food and drinks and a very warm welcome is guaranteed. The pub is 20 minutes away from the ground with large car parking facilities. Post code is DE55 1BG.
Parking is freely available in local car parks priced between £2 at the cattle market and £6 at the local KFC. There are a few spaces to be had in the surrounding roads however if you're willing to arrive early enough. Be aware of the resident only sections that seem to be popping up every week at present however.

Need cheap and convenient parking near the stadium? Rent a local resident's driveway and book Pride Park parking with YourParkingSpace.Co.Uk
Directions
Get directions to the Pride Park from your house by entering your post code or location below:
The nearest / closest train station to Derby County's Pride Park is Derby. Pride Park is around 10-15 minutes on foot from Derby railway station, and is clearly signposted.

Shuttle buses run from the station on match days and back again afterwards. These also pick up and drop off in Derby city centre.
The Games To See
Rivals - Nottingham Forest Kevin Smith,
5 May 2019 - Derby County v West Bromwich Albion
Travel: We live in Burton on Trent so went by train. It was simple as there is a back exit on the train station that actually leads you onto the Pride Park Retail Park. Friends later told me they had no problem finding car parks (costing £5) including the Holiday Inn Express being one of them.

Refreshments: Well as luck would have it West Brom fans were invited to use the facilities at the nearby Derby Conference Centre on London road. Car parking was a fiver and plenty of spaces too. The host gave us complimentary sandwiches and fries plus tea and coffee. An absolutely beautiful place that I'm sure is going to be popular with away fans (we are the first away fans to use the facilities).

Impressions: When we got off the train you can see the ground straight away (from the alternative exit) looks modern although I read it was opened in 1997. We walked past it to go to the Conference Centre its immense.

Atmosphere: West Brom always let you down taking nothing away from Derby who needed the three points to secure a play off place we were poor. The noise was huge when Derby scored and when we sung too. It's hard to believe there were 3,000 Albion Fans in what looked like a corner of the ground. On the concourse, I spotted a lot of card only food outlets.

Exit: No problem at all in getting away from the ground as we just couldn't stay till the end we were that rubbish. The City Centre is signposted so we walked to the shopping centre and amazingly found two JD Wetherspoons pubs next to each other where we drowned our sorrows (as usual).

Enjoy: A top day out. The conference centre will be a big hit which we enjoyed a lot. We are annoyed that we hadn't really realised how close the stadium is to the train station as we have always driven there before.
TELL US ABOUT YOUR EXPERIENCES HERE: