Fulham FC - Craven Cottage
Craven Cottage has been the home ground of Fulham FC since 1896 and has a capacity of 26,678. However, the highest all-seated attendance to date is just 25,700 recorded in their 1-0 defeat by Arsenal in September 2009. It is located next to Bishop's Park on the banks of the River Thames. Being an old stadium, it comes complete with many supporting pillars. The Riverside stand has 2 fairly well back and the Putney End is very similar with 3, but The Johnny Haynes Stand has many pillars across the front and the Hammersmith End has 2 pillars about half way back, right in the middle.
Away fans are allocated approximately 3,000 seats in the Putney End Stand behind one of the goals. The stand is split between home and away fans. The facilities within the stand are very good, but, there are three rather prominent pillars that can and will obstruct your view if your seat is toward the top half of the stand. The leg room is rather good and the refreshments area underneath the stadium is very spacious and not hugely over priced with a wide range of food and drink.
Craven Cottage seating plan: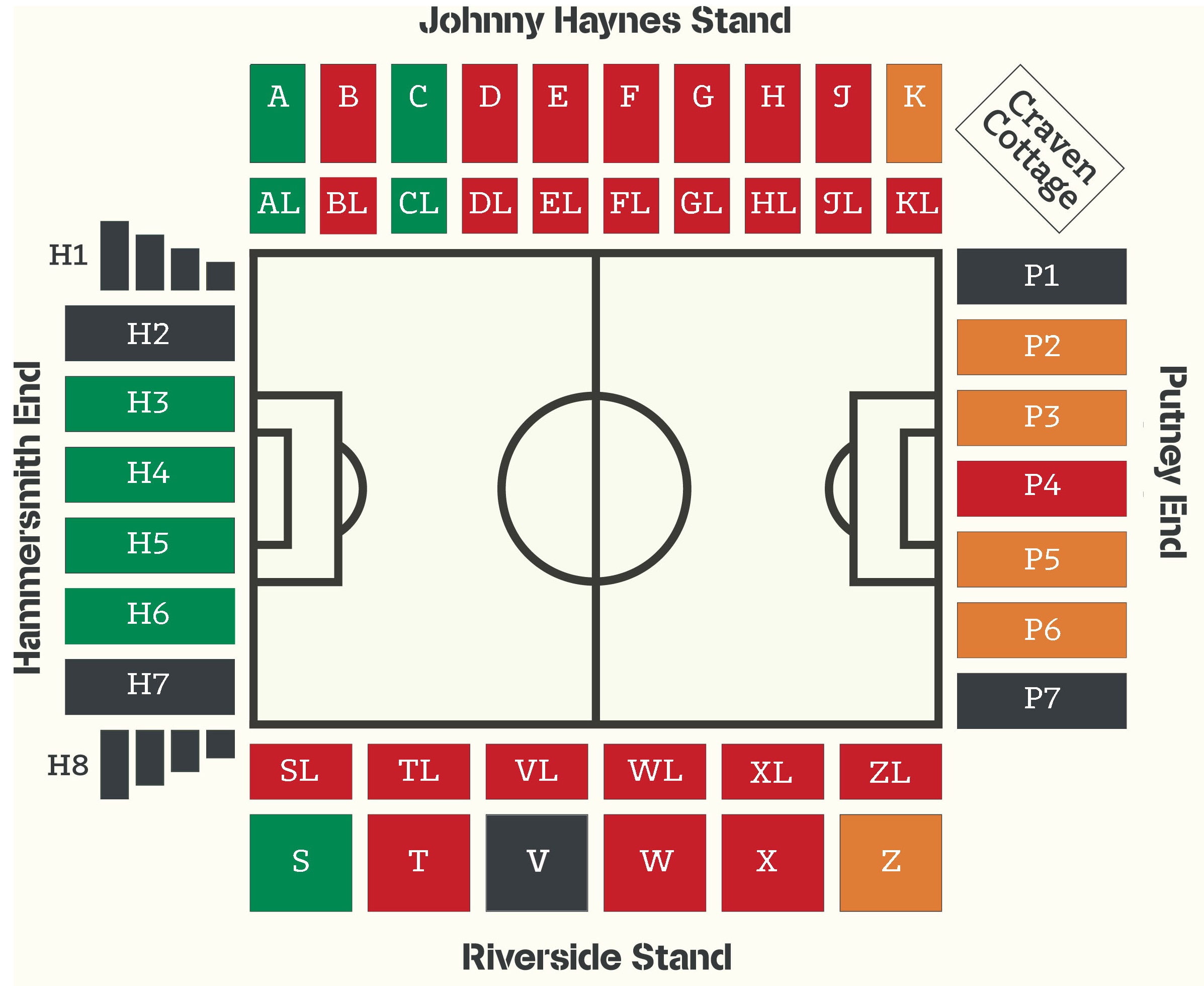 There are a fair amount of food outlets in the local vicinity and a number of burger vans outside the stadium provide the usual fare of health concious food. As regards public houses, The Crabtree on Rainville Road is approximately 10 minutes from the ground and welcomes home and away supporters. To find it, head away from the away end at the cottage along Stevenage Road and turn left along an alley which runs behind the stand. When you reach the waterside turn right and walk alongside the river. The pub is approximately 500 yards along here on your right.
Parking is very difficult to find on match days. The surrounding areas are residents only or only allow you to stop on the pay and display meters for a maximum of 1 hour. However, it is possible in the streets on the other side of the Fulham Palace Road (A219) to Craven Cottage. It's £1.60 per hour and not limited by time. Bring change and arrive early. Alternatively, it may be cheaper and easier to travel by tube.

Need cheap and convenient parking near the stadium? Rent a local resident's driveway and book Craven Cottage parking with YourParkingSpace.Co.Uk

Driving to Fulham - Craven Cottage but need a car? Try Enterprise Rent-A-Car London
Directions
Get directions to the Craven Cottage from your house by entering your post code or location below:
Putney Bridge, which is on the District Line is the closest tube stop to Craven Cottage. It is a London Underground station on the Wimbledon branch of the District Line. It is between Parsons Green and East Putney stations and is in Zone 2. It is still a good 15-20 minute walk to the ground from here but seems like so much more after a poor performance or bad result.

The station is located adjacent to Fulham High Street and New Kings Road (A308) and is a short distance from the north end of Putney Bridge from which it takes it's name.

The nearest / closest train station to Fulham's Craven Cottage Stadium is Putney. This is around a 30 minute walk from the ground. Simply exit the station, take a right onto Putney high street and follow it over Putney Bridge and round onto Fulham High street. Once you reach Bishops Park Road on the left hand side, you're free to take any left down onto Stevenage Road where you'll find the stadium.
The Games To See
Rivals - Chelsea, QPR, Brentford, Gillingham John Hague,
5th December 2018 - Fulham v Leicester City
Travel: We had booked parking on someone's drive in a Mews about 20 minutes walk away and got there early to enjoy a couple of pints so had no problems.

Refreshments: Before the game, we went for a pint in The White Horse on Parson's Green. An old favourite of mine and also of beer writer Pete Brown, another native of Barnsley. Sadly no sign of Pete today but plenty of cracking beers on offer. From here we went to the Octoberfest on Fulham Road for some cracking German beers and food. There was a good mix of friendly home and away fans and we passed a couple of happy hours here.

Impressions: Apart from the classic Archibald Leitch Stand and the cottage, the ground has changed so much since I last visited in 1983 yet was comfortably recognisable. It is an absolute gem. I had a wander and got my pin badge from the shop. The away end is comfortable and there was a good noise generated by the City fans. The fact it was Claudio Ranieri's first game in charge of Fulham added some spice and the City fans clearly have a lot more affection for him than his new fans.

Atmosphere: The game was pretty poor. Neither side could gain control. I think a draw was a fair result and I'm sure Ranieri felt better at the end. As we'd eaten earlier I can't comment on the food.

Exit: An easy 20 minute walk back to the car and a reasonably pain-free exit along the M4. The rest of our journey will be familiar to football fans all over the country. Overnight lane closures and restrictions... painful.

Enjoy: A great afternoon and evening and a good bonding experience with my sort-of step-daughter.
TELL US ABOUT YOUR EXPERIENCES HERE: