Wigan Athletic FC - DW Stadium
The newly renamed DW Stadium was originally opened in 1999 and has a capacity of just over 25,000. All four stands are similar in height and looks and the four corners are open which unfortunately takes away from the little atmosphere that gets created. Away fans are housed in the North stand behind one of the goals.
Up to 5,200 visiting supporters are allocated the North Stand behind one of the goals. Facilities and the view of the playing surface are generally very good, whilst the refreshments are reasonably priced with hot dogs, pies and burgers starting from £1.90.
DW Stadium seating plan: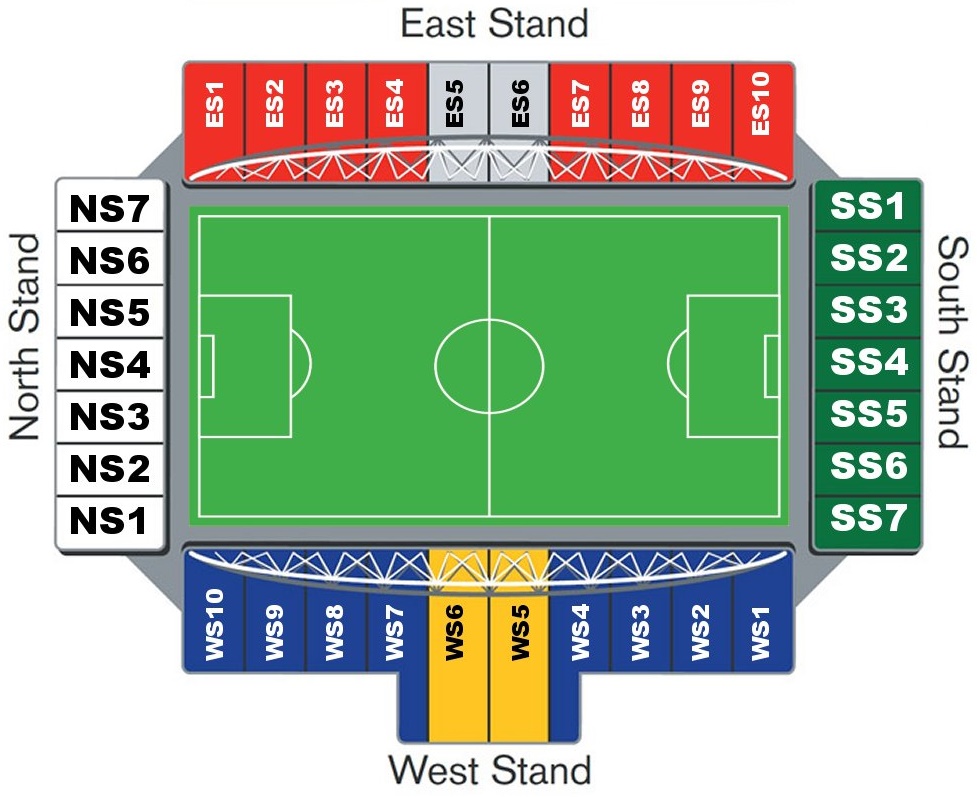 The Swan and Railway is close to both stations and does food, but is small inside. Walking towards the ground there is a pub on the left called the Orwell which welcomes well behaved away supporters and does a special fans lunch with several menu choices at excellent prices along with competitive beer prices. The Queens Arms is also nearby the ground and welcomes away fans, as does The Bowling Green which is less than 10 minutes walk away from the ground.

It's almost all transnational fast food outlets in the retail park in which the DW is situated. We thoroughly recommend Market Street Fish and Chips, a short walk from both railway stations on Market Street.
Parking is available at the stadium itself in a large car park situated behind the away fans section. It costs £5 per vehicle which is very much the standard price these days but unless your quick on your toes in leaving the stadium after the game, it can take a long time to get out afterwards. Arrive early and be prepared to leave as quickly as you can is common advice.

Need cheap and convenient parking near the stadium? Rent a local resident's driveway and book DW Stadium parking with YourParkingSpace.Co.Uk
Directions
Get directions to the DW Stadium from your house by entering your post code or location below:
The nearest / closest train stations to Wigan Athletics DW Stadium are Wigan North-Western (on the West Coast Mainline) and Wigan Wallgate (trains from Liverpool and Manchester) which are both within a few minutes of each other in the town centre. They're both just under 2 miles from the ground and there's no bus service. A cab will set you back about £6 with a tip.

If you fancy a wander the DW Stadium is a 10 to 15 minute walk from either station.
The Games To See
Rivals - Bolton, Man City, Preston, Burnley, Man Utd Brian Moore,
22nd December 2018 - Wigan Athletic v Birmingham City
Travel: We went via the club coach which got there about an hour and a half before kick off due to the really slow moving traffic on the road from the M6 to the ground and it being the last Saturday before Christmas.

Refreshments: We went into the away end bar area outside the ground to warm up as it was freezing. It was already busy beforehand and more and more blues fans were arriving we headed in early to get a pie and check out the ground.

Impressions: In line with many new grounds, this one had a bit of a Lego kit look but it was clean looking from the outside and at least the four stands are all individual and not a bowl layout. A brief pat down by the friendly stewards and straight into the concourse with no hassle.

Atmosphere: First thumbs down. They had no Balti pies ready despite knowing there would be 4800 blues fans coming!! Had to make do with a steak pie which after being told how good they were was a bit of a letdown. The guy I stood next to, his pies had pease pudding you could have snapped in two it was that hard. The concourse was busy with a lot of fans so I was glad to get to my seat. As for the game we weathered the storm of the home team and ended up winning 3-0. What was shocking was the really poor attendance from the home fans - to the opposite end to us almost quarter full made for a flat atmosphere banter wise although we enjoyed ourselves. It was too much for one fan who fell asleep after most had left and had people taking selfies with him until he jolted awake and realised he'd been deserted by his mates!

Enjoy: An enjoyable day out helped by a great result away from home and a clean sheet. Probably not a ground I'd be definitely looking to revisit next season as there's other to go to but 7/10 and a thumbs up.
TELL US ABOUT YOUR EXPERIENCES HERE: